SOLEDAD — As the Valley enters the dog days of summer, the Soledad Aztecs returned to the football field for practice after coming off a disappointing 3-7 season. 
A lot went wrong for the Aztecs last season. A late start when it came to hiring a coach and coaches leaving during the 2021 season made it hard for Soledad to restart its program. 
At the beginning of the season, when the Aztecs started 2-1, it looked like they would bounce back after a year away from football. Other than one bad half against Everett Alvarez, Soledad's defense and offense seemed like they could contend for a playoff spot.
The season went south, however, after the Aztecs lost against North Salinas, which started their six-game losing streak. Then, after the season, Soledad head football coach Jose Martinez resigned, leaving the Aztecs searching again for a new leader.
The search didn't last long, as they hired alumnus Marc Villanueva. Last year Villanueva spent time coaching JV before getting called up to varsity to run the offense.
In their final two games under Villanueva, Soledad's offense put up their best offensive games of the year.
Entering this season, Villanueva is bringing back another former head coach, Eric Rodriguez, to run the defense that didn't perform as well. Rodriguez took the Aztecs to the playoffs in 2018 as head coach.
Soledad will have tons of great position players to pick from this year. Like most football teams, everyone wants to know who will start at quarterback, and Soledad has a good one this year.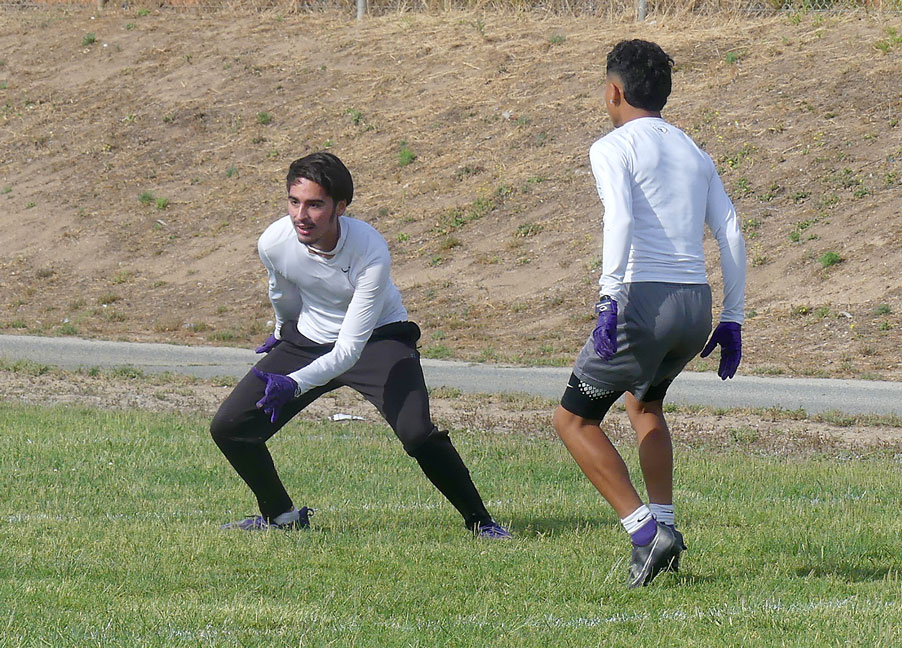 Going into the season, Dominic Chavez will be behind center when the Aztecs lineup in week one. Chavez, who took over at quarterback last season, was able to do a lot despite a lack of protection upfront. He finished the year throwing for 1,228 yards with 10 touchdowns.
This spring Chavez only participated in one practice because he helped the Aztecs make it to the CCS semifinals for baseball. Right after baseball season was over, he was back on the football field for the last day of spring practice.
For someone who hadn't thrown a football since the final game of the season last year, he looked good and was able to drive on the defense with a scout team offense.
Losing former wide receiver Isaiah Cruz is a huge loss for this offense, but last year's Defensive Player of the Year Daniel Raso will be more involved with the offense this year. He will line up all over the field this year as a running back, wide receiver and even a couple of times behind center.
Just like Chavez, Raso also missed spring practice due to baseball, but once regular practices and 7 on 7 come around, he will be a football player full time.
In addition, Victor Ruano is a player that could win every type of award before his time at Soledad is done. Between Ruano and Raso, it's going to be hard to complete a pass this year when having to face them.
It doesn't happen often when teams can weaken an opponent before they even touch the field, but that is what Soledad did to King City with the transfer of Ivan Salcido. Salcido will be another player that Rodrigez can count on for the defensive side of the ball.
Another player who could contribute this season is all-league basketball player Jason Mendoza. Mendoza, who has never played high school football, is set to tryout for tight end this year. If the Soledad coaching staff can bring him along, another athletic big body around the red zone can be a big help.