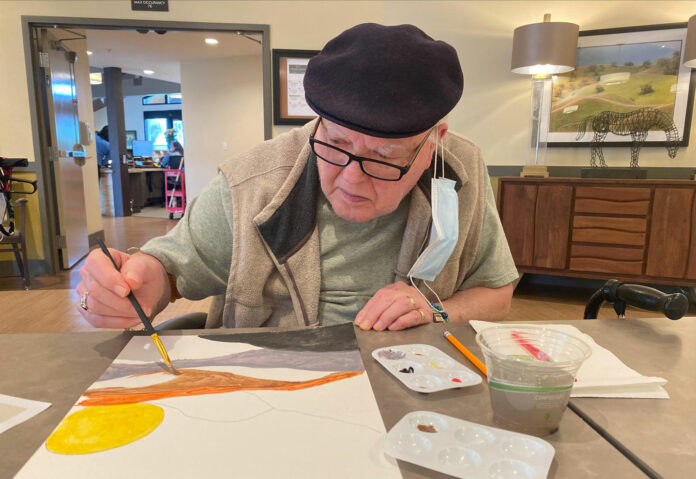 SALINAS — In honor of Alzheimer's and Brain Awareness Month, Madonna Gardens Assisted Living and Memory Care is hosting a special art show showcasing paintings and other works of art created by its residents on Saturday, June 25, from 11 a.m. to 1 p.m.
During the event, the Alzheimer's Association will be collecting donations in support of the Walk to End Alzheimer's, and many of the art pieces will be available for sale, with all proceeds benefiting the walk.
The Alzheimer's Fundraiser Art Show will be held at Madonna Gardens, 1335 Byron St., in Salinas. RSVP in advance to 831-741-4638; proof of vaccination and masks will be required. Attendees are also welcome to wear purple in support of Alzheimer's and Brain Awareness Month.
Cheryl Bruno, lifestyle director at Madonna Gardens, has taught art skills at STEM classes for 30 years and to Assisted Living and Memory Care residents since 2018. She knows how important art is to many of the residents' quality of life.
"I am so pleased that our residents, both in Assisted Living and Memory Care, truly enjoy the art activities offered," Bruno said. "I love to see the close friendships develop among our residents. I also watch how art expression positively impacts those living with Alzheimer's, as well."
At her art classes, Bruno often teaches a particular skill, such as working with texture, or watercolor skies. She then uses the skills with the residents to create original works of art. Sometimes they get inspiration from other artists and sometimes it comes from the residents' own imagination.
According to Philip Geiger, regional director of the Alzheimer's Association in Monterey, "We are so happy to collaborate with the talented artist residents in Assisted Living and Memory Care at Madonna Gardens. We appreciate the partnership and look forward to a wonderful event that benefits the Walk to End Alzheimer's."