SOLEDAD — Soledad Police officers responded to a report of annoying messages between a 12-year-old child and 19-year-old Nathaniel Diaz on Nov. 21.
"After a review of the information, the case was immediately sent to our Investigations Division for further investigation," said Soledad Police Department in a news release.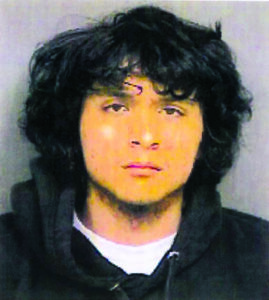 Local detectives and a forensic interviewer from The Bates Eldridge Clinic at the Natividad Medical Center interviewed the child. They determined that "numerous sex crimes" had occurred between the child and Diaz on several occasions in both the cities of Soledad and Greenfield, police said.
On Nov. 29, the Monterey County Superior Court issued a search warrant, which was executed by the Soledad Police Department, with the assistance of the Greenfield and King City police departments, in the 600 block of Madera Avenue in Greenfield.
"Family members were cooperative and assisted detectives with contacting the suspect, who later turned himself in to Soledad Police detectives at the police department," police said.
Diaz was interviewed, arrested and later booked into the Monterey County Jail on charges of aggravated sexual assault, rape, lewd acts, oral copulation and sexual penetration of a minor; arranging a meeting with minor for the purpose of sex; possession of child pornography; child abuse and criminal threats. His bail is currently set at $2.1 million.
The investigation is continuing, police said, and detectives believe there may be other victims in Soledad and Greenfield.
Anyone with additional information can call Detective Santiago at 831-223-5139 or Detective Solis at 831-223-2176, or remain anonymous by calling We Tip at 800-782-7463.