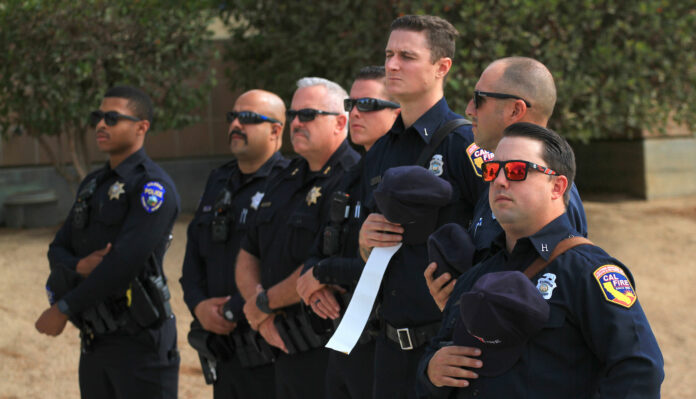 SOLEDAD — Community members in Soledad observed a September 11 Remembrance Ceremony held at Soledad High School last Sunday.
Cadets from the Soledad High School NJROTC raised the flag, led a salute and spoke about the history of the attack, along with first responders and area leaders.
"We want to remember what happened that day, the tragedy of those events, and teach it to our children," said Maria Ruiz-Corralejo, who organized the event with F&M Auto Repair, Soledad Unified School District, NJROTC and Braga Farms.
Signs painted by elementary students and displayed on Braga Farms' property 21 years ago were on display as a background during the Sept. 11 ceremony. Ruiz-Corralejo said it was a way to see the event through the eyes of children.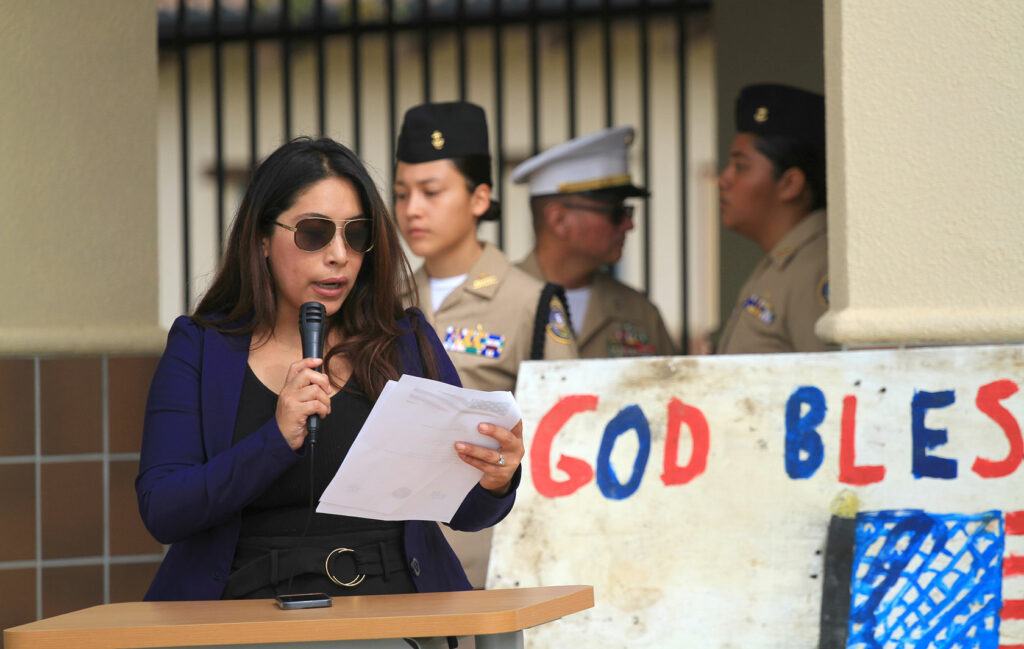 "I remember them from back in 2001 when they were decorating our highway," she said. "I approached Mr. Braga this year and asked him if it would be possible to obtain the signs to have people view them. We were fortunate enough that he said yes."
After Ruiz-Corralejo's speech as master of ceremonies, the NJROTC cadets presented a timeline of the attacks, starting with the impact on the first tower and moving through the unfolding tragedy.
"The high school was in its second year of operation," Superintendent Randy Bangs said on behalf of the schools. "It just so happened when this occurred it was a school day. It was totally sobering as to what occurred. It was a day that we'll never forget."
Bangs called the NJROTC a vision of the community, which the high school has been able to have present since its first year.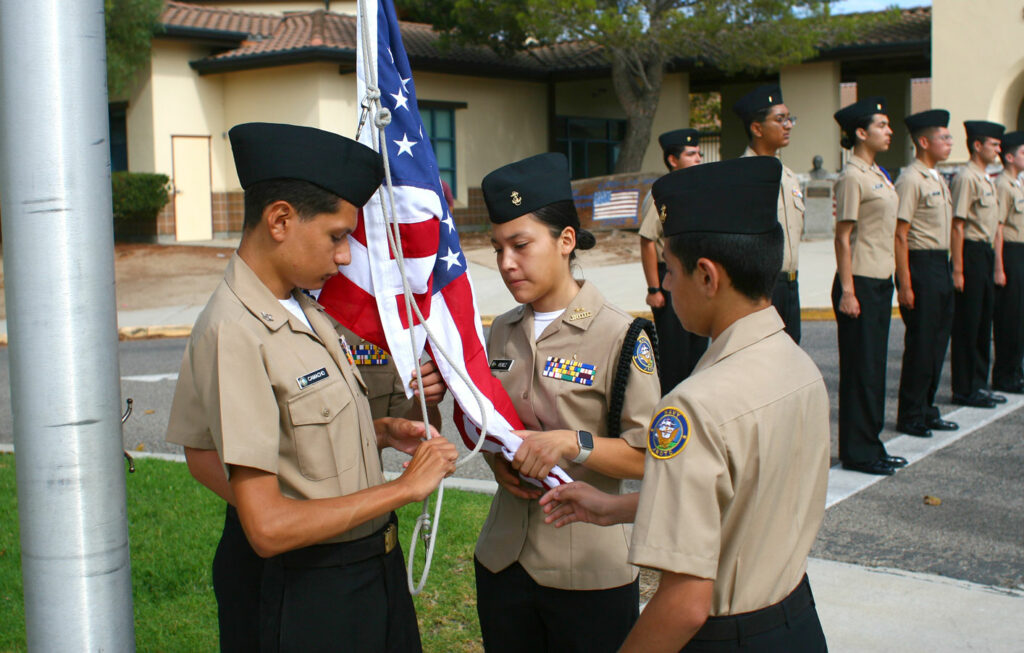 Captain Nick Gelos spoke on behalf of Cal Fire and opened remarks from the first responder perspective. He noted the 3,000 lives lost, including citizens and first responders.
"There is a distinct feeling you get as a firefighter or police officer a few times in your career," Gelos said. "It's that feeling of arriving at the scene of an incident and your sixth sense telling you, 'you might not make it out of this one.' They had that feeling of impending doom, but they went ahead because there were victims to be saved."
Gelos said the lesson that can be learned from 9/11 is service.
"What better way to honor the memory of the fallen than to commit to service," he said. "By committing to service, you not only gain the satisfaction and pride of helping others, but you serve as a role model to your friends and family that life is more than just yourself."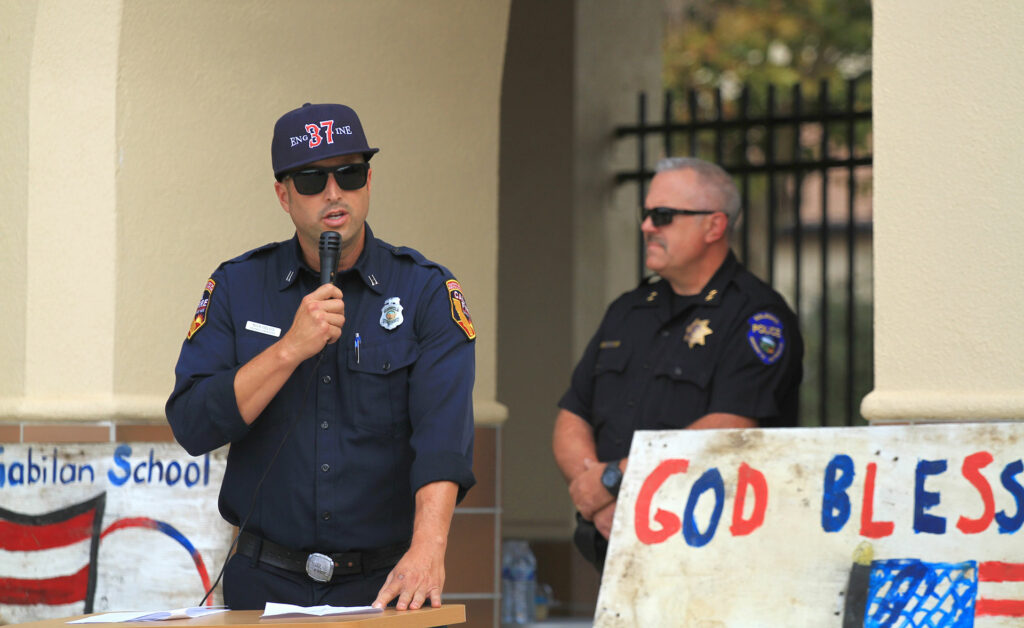 Deputy Police Chief Fred Lombardi spoke on behalf of Soledad Police Department. He thanked the community members present for coming out to the ceremony.
Captain Pete Gomez spoke on behalf of the military response, which took place in the years following 9/11.
"This is one of the events that really gets to my heart since I was part of the response when we were attacked," Gomez said. "I've done 25 years in the Marine Corps. Five combat tours. I've done a tour in Afghanistan, Saudi Arabia and Kuwait, three combat tours in Iraq, two in Fallujah."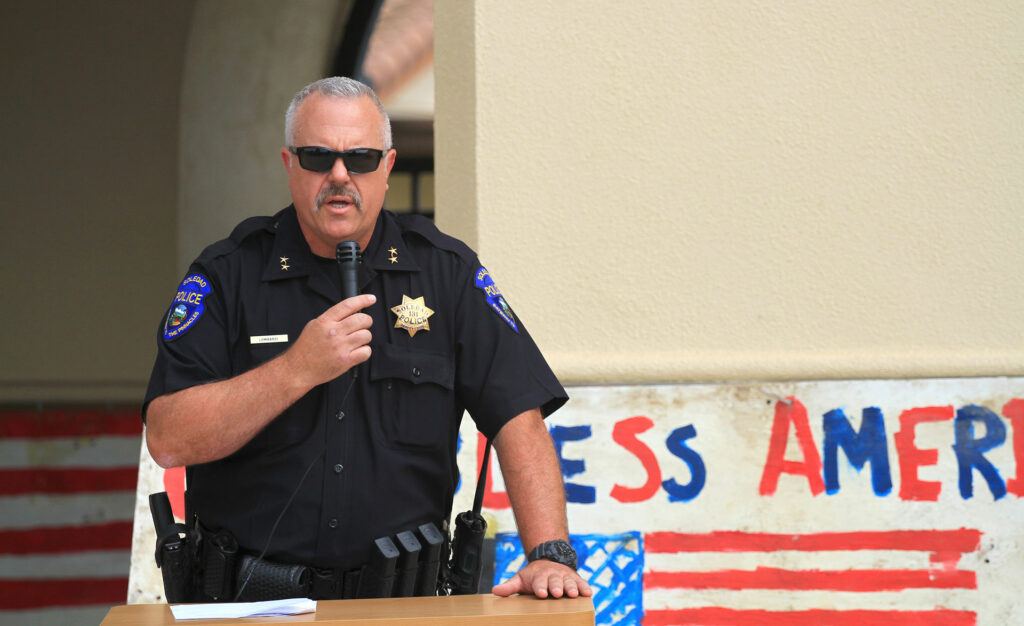 Gomez noted the loss of many Marines over that course of time. He reflected upon the question of why American military needs to go to foreign countries. He pointed out the term green zones, which are considered safe areas to deployed personnel.
"I look at America as our green zone," Gomez said. "It is best for us to deal with the enemy out there than allow the enemy to come to our soil. We must continue to fight because there's a lot of countries out there that don't like America. They don't like the freedoms that we have. We must continue to defend our country."
Gomez noted the need to not only respect the flag, but also remember the sacrifices of first responders and military in order to protect the United States.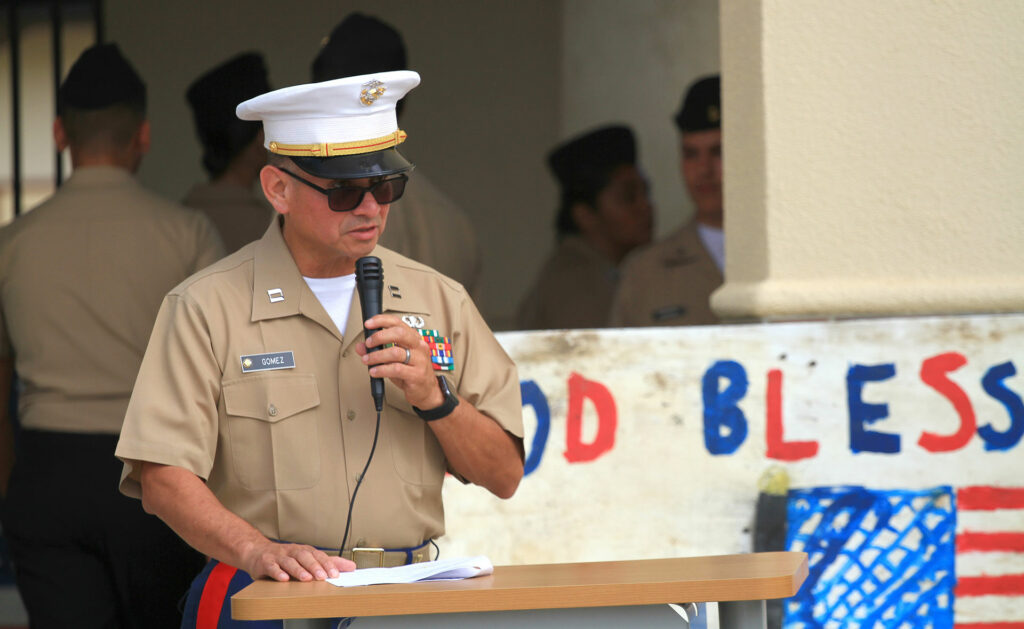 Ruiz-Corralejo wrapped up the ceremony by telling the story of the signs, which started out as a donation of plywood and paint from Braga Farms to area schools. Then the completed signs were displayed along agricultural property next to Highway 101.
"They called it the 'Freedom Fence' and urged people to donate to the Red Cross," Ruiz-Corralejo recalled. "It was up for three months before the state made them take it down."
She said the signs were in storage and most were able to be recovered and cleaned up, but age had made them fragile. She spoke about the need to include children in the discussion of the attacks.
"It's important for us to remind them of what happened on 9/11 and also to allow that to make us stronger as individuals and as a nation," Ruiz-Corralejo said.