SALINAS — U.S. Reps. Jimmy Panetta and Zoe Lofgren recently visited the Salinas Police Department to highlight new federal funding for the department to deploy technology that will improve efficiency, officer safety and community transparency.
Salinas Police Department received $1,165,000 in the final 2023 appropriations government funding package, which was signed into law on Dec. 29, 2022. Specifically, the investment will support new data integration and analytics, license plate readers and dashcams for officers.
"I was proud to secure $1.16 million for the Salinas Police Department to deploy technology that will improve the efficiency of police work, officer safety and community transparency," Panetta said. "In partnership with our local police departments and governments, I'm committed to helping build safer communities in Salinas and throughout Monterey County and California's 19th Congressional District."
Homicides in Salinas nearly doubled from 2020 to 2021 and aggravated assaults rose by 13%, according to Panetta.
"Across the country, we're seeing the same trends with the rise in violent crimes and persistent staffing shortages making the difficult work of our officers, even harder," Panetta said.
The Feb. 24 visit coincided with the one-year anniversary of the death of Jorge David Alvarado Jr., a 30-year-old Salinas police officer who was shot and killed during a traffic stop on Feb. 25, 2022.
Salinas Police Department held a private ceremony to reveal a bronze bust of Alvarado that will be placed at the police station, in addition to the city's unveiling of a street sign for JD Alvarado Circle, which replaces Murphy Street outside the station.
"I was proud to join Rep. Panetta to celebrate the $1.16 million federal investment for technology improvements for the Salinas Police Department, and I thank him for his work securing this funding," Lofgren said. "After upticks in dangerous incidents in Salinas, including the killing of Officer Alvarado Jr. a year ago, it is particularly valuable to have improved transparency for the community and police officers alike. I look forward to working with Rep. Panetta and Salinas' safety leaders on violence prevention efforts in the months and years ahead."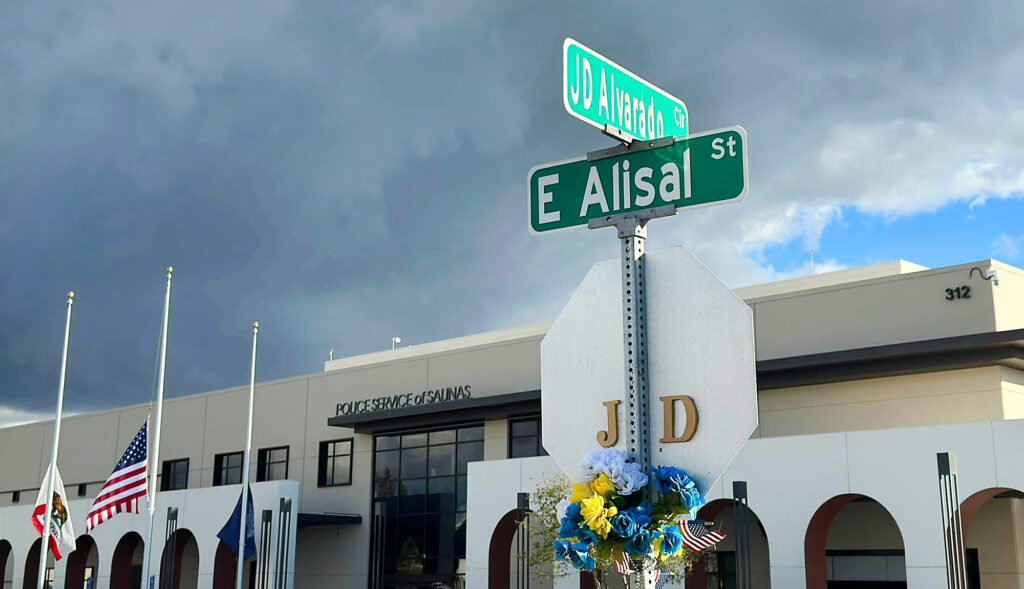 The federal grant will fund the deployment of the peregrine platform data integration system for crime and intelligence analysis, expand mobile license plate readers to an additional 30 police vehicles, add in-car camera systems to 10 of the Salinas Police Department's oldest patrol vehicles, and allow the department to expand its fixed license plate reader (LPR) camera network with 20 additional cameras.
"We're incredibly grateful for the advocacy of Congressmembers Panetta and Lofgren. They both continue to listen to our needs in Salinas and effectively deliver results," said Salinas Mayor Kimbley Craig. "The technology this grant provides for Salinas PD is an integral part of bringing our police department into the 21st century."
Following the 2020 Census, the non-partisan California Citizens Redistricting Commission changed Congressional Districts in the South Bay and Central Coast dramatically; they split Monterey, San Benito, Santa Clara and Santa Cruz counties between different U.S. House Representatives.
As such, when securing government funding for fiscal years 2022 and 2023, the Salinas area was solely represented by Panetta. The new congressional session, CA-18, which now houses Salinas, is represented by Lofgren.