SALINAS — Several hundred people and a large group of civic and educational officials gathered for the grand opening of the Salinas Community Science Workshop last Saturday at El Sausal Middle School in Salinas.
The Science Workshop is a nonprofit organization that serves as a science education resource for the local community. Other science workshops from San Francisco, Fresno, Watsonville and Greenfield were all present with loads of make-and-take science projects as well as experiments, demonstrations and exhibits to show.
A real 30-foot whale skeleton was also on display, onto which participants could put bones and touch the flippers, and a recently completed horse skeleton stood beside the whale. In addition, participants could ride hovercrafts, launch rockets, make musical instruments, sew bean bags and etch 50-million-year-old fossils out of rocks from Wyoming.
During a short presentation at the Oct. 16 opening, El Sausal Principal Francisco Huerta welcomed the new organization to his campus, and Superintendent Dan Burns of the Salinas Union High School District related his excitement with the programs that the Science Workshop is offering.
Congressman Jimmy Panetta, Assemblymember Robert Rivas, County Supervisor Luis Alejo and Salinas Councilmember Orlando Osornio all proclaimed their support for the new Science Workshop, as did a representative from Sen. Anna Caballero's office.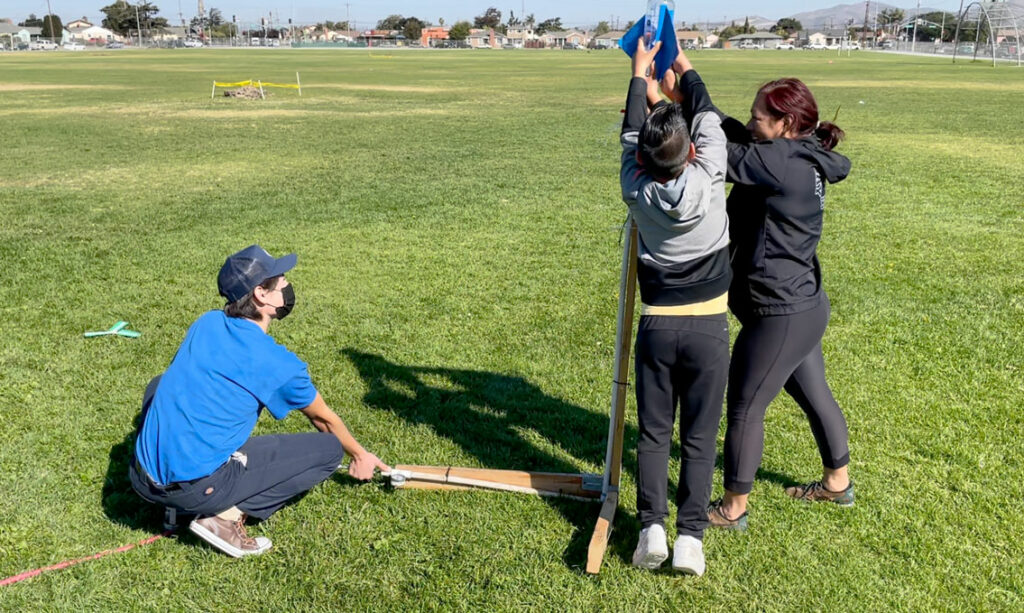 Salinas Community Science Workshop now serves the students of El Sausal with several programs, including after-school drop-ins and the STEM Girls group, as well as supporting the middle school's science teachers.
"The SCSW puts the tools of science into kids' hands," said Science Workshop Director Curt Gabrielson. "At our programs, kids are free to use tools and build the projects of their imaginations with a wide range of material. Common projects are woodworking, bicycle repair and modification, basic electronic circuits with hobby motors, lights and speakers, and magnetic toys."
A variety of exhibits and specimens are also on display for students to observe and learn from on their own initiative. Garden boxes, planters and animals complete a "rich environment in which to explore and discover," Gabrielson said.
The nearby primary schools of Fremont, Sanchez and MLK are doing walking visits to the Science Workshop to explore the exhibits and do a make-and-take activity related to the standards for their grade. Gabrielson is currently working with Huerta to arrange times when other community members from Alisal can enter and access the resources.
"In the near future, we plan to open for the local community of families and students during out-of-school times," Gabrielson said. "It is our vision to expand and serve all children of Alisal and then greater North Monterey County."