GREENFIELD — Greenfield resident Cosme Gonzalez was sentenced to four years in state prison for inflicting injury on his girlfriend and for violating a protective order.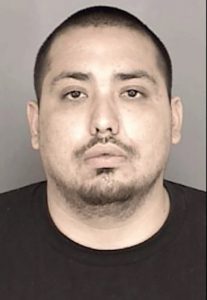 Gonzalez, 27, also admitted a prior domestic violence conviction and a prior conviction for violating a criminal protective order.
On August 29, 2020, Greenfield Police officers were dispatched to the location of a domestic violence incident, which occurred in a local home. The victim had fled to a nearby establishment to escape her attacker. Upon arrival, the officers met with the victim, who was crying, had scratches on her neck and her right eye appeared to be slightly swollen.
The victim said she and her boyfriend, Gonzalez, rented a room from his family and she was seven weeks pregnant with his child. She reported that they got into an argument, which happened frequently.
"During the incident, Gonzalez punched her in the head multiple times, and punched and kicked her in the stomach and back several times," according to the Monterey County District Attorney's Office in a news release. "She said after being kicked, she was unable to move, and she felt as if she was stuck on the floor, due to the pain."
Gonzalez pleaded guilty and was placed on felony probation on Oct. 9, 2020. One of his terms of probation was to have no contact with the victim.
On Feb. 10, 2021, officers were again dispatched for a report of domestic violence. The victim reported that she and Gonzalez got into an argument about video footage on his phone and he kicked her in the groin area. She advised officers that she is pregnant with his child.
"When she said she was going to call police, he got on top of her and tried to get her phone to prevent her from calling 911," the DA's Office stated.
On July 7, Monterey County Judge Pamela Butler sentenced Gonzalez for both felonies.