GREENFIELD — Greenfield Police Department received multiple calls from residents on the 100 block of 10th Street who reported a suspicious person in their front yard last Tuesday morning.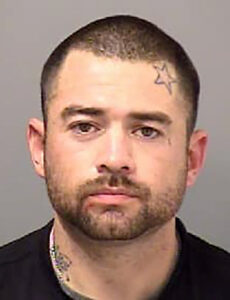 When officers arrived at about 4:30 a.m. on Jan. 10, they found an adult male suffering from a gunshot wound. He was transported to a local hospital and is expected to recover, police said.
Detectives of the South Monterey County Task Force arrived on scene and took over the investigation. Officers of the Soledad, King City and Gonzales police departments helped with the initial response.
Derick Martin Barajas, of Greenfield, was identified as the suspect, and an arrest warrant was issued for Barajas.
The next morning, Jan. 11, Barajas appeared for a previously scheduled court hearing at the Monterey County Superior Courthouse in Salinas, where he was arrested and held on the warrant for attempted murder.
"We would like to thank the community members who called 911 to report the victim in their yard," police said. "Without your help, the victim may have succumbed to his injuries. We would also like to thank the residents who came forward to help us identify Barajas. Lastly, we couldn't be successful without the help of our partner agencies."