GREENFIELD — Last season the Greenfield Bruins varsity girls' basketball team saw their season come to an end against Del Mar, but this year they had another chance to make a run in the playoffs.
Entering the season, the Lady Bruins posted a record of 16-5 overall and 9-1 league. This season was similar to last year, as they won another league title and were one of the most dominant teams in the Pacific Coast Athletic League.
This year Greenfield was put in the second round of the Central Coast Section Division III playoffs, where they were matched up with the Soquel Knights (13-13), who had beaten the Seaside Spartans in the first round.
In the Feb. 18 game, the Lady Bruins got off to a great start, playing good defense and knocking down shots from the outside. They led the Knights 15-6 after the first quarter.
In the second quarter, Greenfield player Latai Matelau's size bothered the Lady Knights, who committed several fouls because they couldn't find a way to keep Matelau from grabbing every rebound. The Bruins capitalized on the Knights' foul trouble, leading 36-19 going into the half.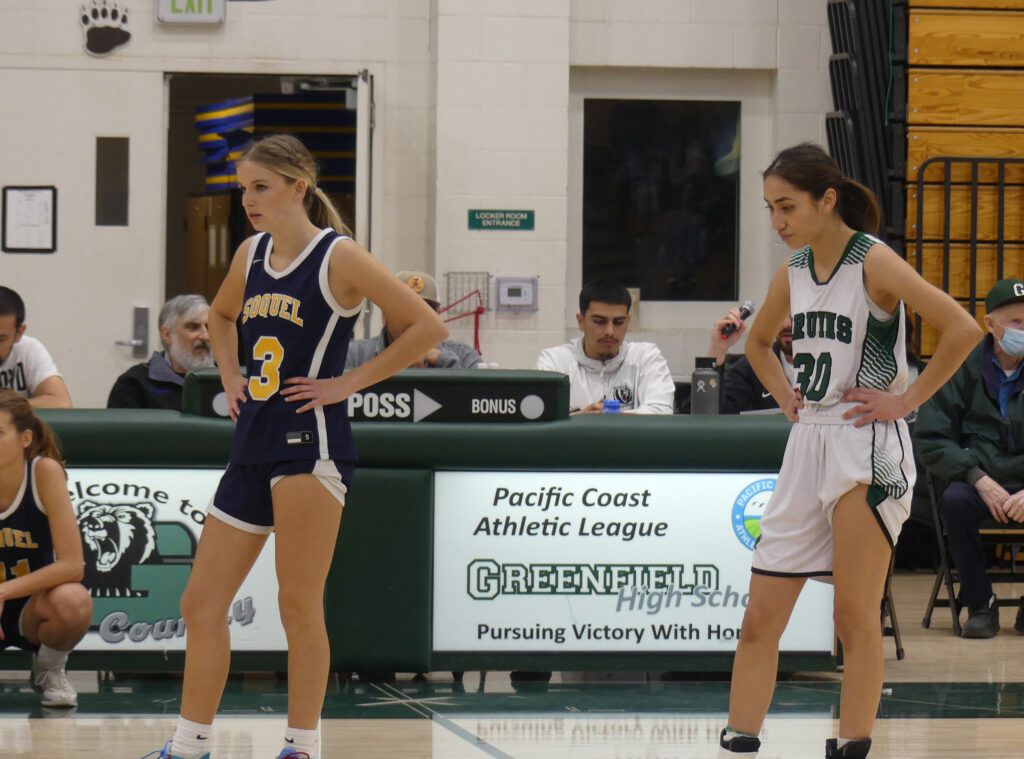 In the second half, the Lady Knights somehow turned on a switch and became the dominant team. Little by little, they started to cut into the Bruins, as they were able to hit a shot from the three-point line and got Greenfield into foul trouble down the stretch.
Soquel, who was once down 17 at the half, now were only down 10, as they trailed 45-35 at the end of the third quarter.
With five minutes left, the Lady Bruins were just trying to hold as they were up by five, but the Knights kept on coming. Another two minutes went by, and they were only down by one.
All game long, the Bruins led until the final minute, when the Knights took their first lead. And, to make things worse for the Bruins, Matelau had fouled out of the game.
Near the end of the game, the Lady Bruins found themselves down two points with 6.9 seconds.
On what could have been their final chance, Greenfield's Yasmin Avalos beat her defender as she received the pass. She had a clear path to the basket, but as she was going up for a layup, she was fouled while making the basket.
Now, Avalos had a chance to win the game with a free throw. She sank it to win the game 54-53, advancing Greenfield to the next round of playoffs.
Avalos scored a team-high of 17 points, which were second in scoring on the night. Matelau scored 15 points, while Jimena Hernandez and Leslie Santiago each scored 8 for the Bruins.
In the CCS quarterfinals, Greenfield headed to Santa Cruz on Tuesday night for their next game. The Bruins ultimately lost 64-39, ending their playoff run.