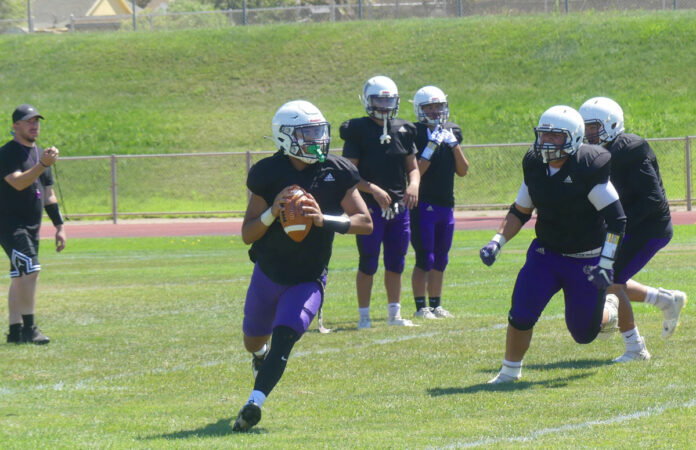 SOLEDAD — As the regular football season approaches, Soledad High's new head coach Marc Villanueva along with senior quarterback Dominic Chavez want to help the Aztecs return to their winning ways.
As his athletic career at Soledad High wraps up, Chavez has helped all his teams make the playoffs except for one: football. When he puts on his Aztecs football jersey for the final time this year, he looks to help change that.
Chavez's Aztec story goes back to his day as a ball boy for the football team. As he would watch his cousin, former Soledad High running back Jeremiah Murrillo, he would fantasize about playing under the lights when it was his time.
"Going to his Friday night games was crazy," Chavez said. "I remember being a ball boy on the sideline. My cousin Daniel and I were like, 'We can't wait to be here.'"
Last year the Aztecs finished the season with a disappointing 3-7 record. But Chavez, who came in at quarterback in the third game of the season, showed that the offense could put up some points.
In his first game at quarterback, he went 7 of 12 with 215 yards throwing and made two touchdown passes in a win against North Monterey County.
Going into this season, both Chavez and Villanueva will have the task of trying to get the Aztecs back on track.
Before winning ball games on the field, Villanueva needed to tap into the community and get their support. During the offseason, Soledad played host to the other three South Monterey County schools for their seven-on-seven passing league.
"The community support has always been great here," Villanueva said. "The community has always been the best in the area. We want to do our best to give them a show."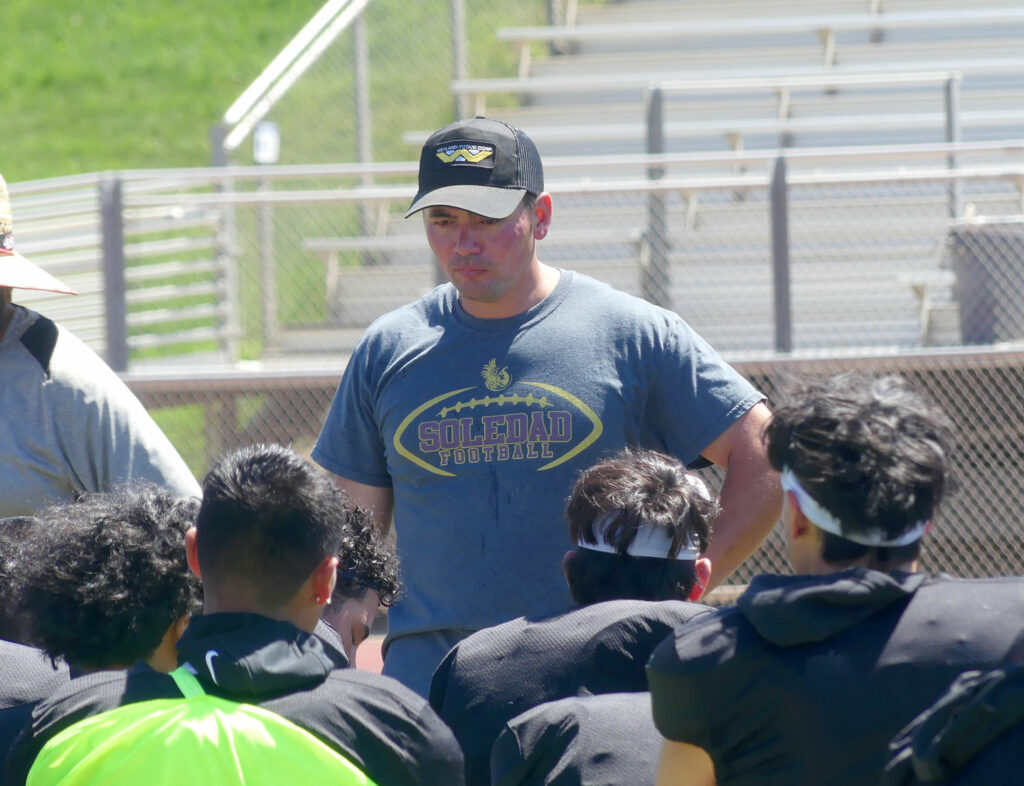 What is typically a semi-closed event, Villanueva opened the doors to everyone, and that move paid off as spectators almost filled the entire home side of the stadium.
Villanueva, who played quarterback when he attended Soledad High, decided to bring back the Purple and Gold Scrimmage. He also made it open to the public so the community could see what kind of team the Aztecs will have this season.
"Our main reason why we want to bring it back is to get back to our tradition," Villanueva said. "And as a coaching staff, we want to get a good evaluation of our players."
Before he was able to lead going into this offseason, Chavez realized that there were parts in his work ethic he needed to improve on.
"I think I was getting by with just my playing ability," he said. "I'm putting in way more work than last year."
During the offseason, Chavez dedicated time to weight training two times a day and on-field workouts, with the help of strength and conditioning coach Josh Fernandez, owner of Richard Russell CrossFit.
"I've been working with our strength coach at his gym at five in the morning," he said. "Then I come home, then go lift again, and then we do work on the field."
Many people who are not connected with the Aztec program have been wondering if Chavez will indeed play quarterback this year or if he would move back to receiver. Chavez said he doesn't care what position he plays this fall as long as he helps his team.
"People think that, but for me it is how am I going to help my team win," he said. "I definitely think the type of athlete I am I can play anywhere on the field."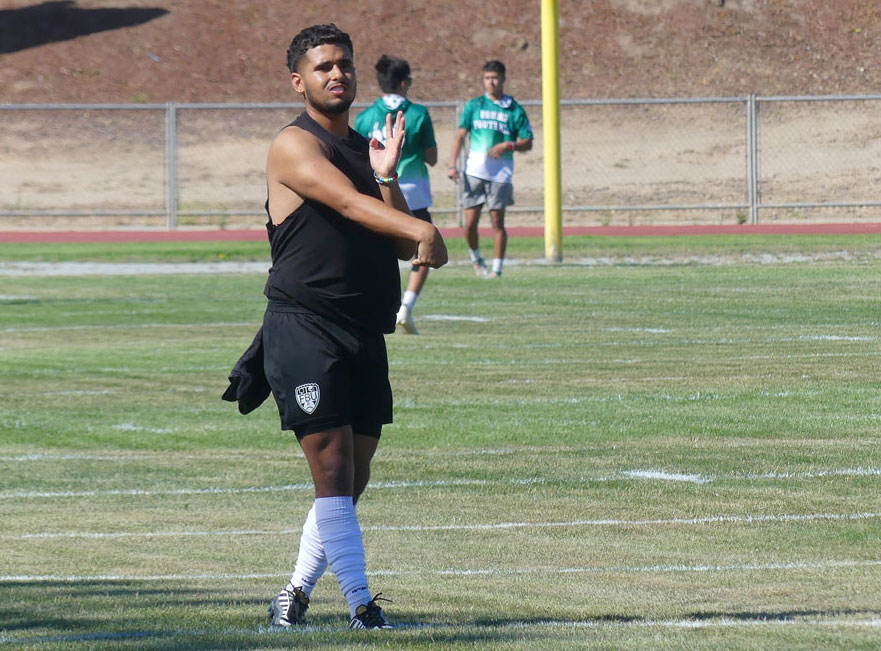 Chavez, who is the ultimate competitor, knows that the quarterback is the most important position in football, and he's prepared to hold on to the job all season.
"My mindset coming into this season is I'm QB one and stay there for the rest of the season," he said. "At the same time, if our coach decides he wants to bring in someone else, I don't mind."
Other than winning a league, Chavez wants to leave no doubt about who is the best athlete, not only at Soledad, but also in the entire county.
"I want to win Male Athlete of the Year," he said. "Most importantly, I want to put Soledad back on the map. I think people sleep on us."
Coming into this season, Chavez feels disrespected because he thinks the Aztecs are being overlooked. He believes that in his final season that this team can be a special one.
"A lot of people don't realize we haven't touched our potential," he said. "We haven't been able to catch a groove. We're going to be deadly. They haven't seen anything yet."
For the Aztecs this year, there is a lot of optimism that they can rebound after last season. The Soledad community, however, will have to wait a couple more weeks to see the Aztecs at home.
Soledad will start their regular season in King City this Friday, when the Mustangs host the South County Jamboree. Then, the Aztecs will have two road games against Soquel and Greenfield before they host Carmel in their home opener on Sept. 9.
"In our first game, you're going to see a lot of explosiveness," Villanueva said. "One of our biggest strengths is our explosives."