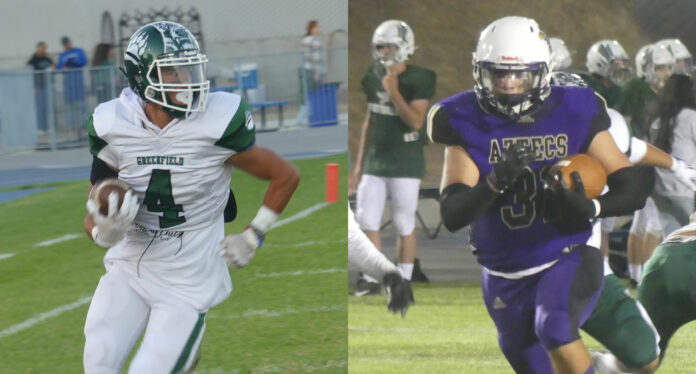 SALINAS VALLEY — After a great first week to the new football season, week two will be even better when the Soledad Aztecs travel to Greenfield High School to face the Bruins in the 24th Aztec-Bruin Helmet game.
Last week Greenfield and Soledad played close games that came down to the end, but only one came out with the win. The Bruins erased their losing streak to King City, while the Aztecs lost to Soquel.
Soledad has dominated this rivalry as of late, winning the last nine match-ups, but this year the Aztecs won't have an easy time with the Bruins as they look to hang a banner in their gym for the first time in school history.
---
Thursday, Sept. 1
Soledad Aztecs (0-1) vs. Greenfield Bruins (1-0)
7 p.m. at Greenfield High
Greenfield Bruins
What We Know: Although the Bruins were able to come away with the victory last week, the offense struggled to get things going through all four quarters. The Bruins came out aggressive, and it was beautiful to see that type of physical play. If they are able to dominate in the run game, that is a big plus.
Players to Watch: Last week Nathan Cox was dominant against King City and had eight tackles, a fumble recovery TD and a sack. Eric Andrew Hernandez must be on top of his game with all Soledad's receivers. Alonso Barcenas finished last season with four 100 yards rushing games.
Questions: Will the offense come alive in their second game? Through the first three quarters in last week's game, the offense didn't score any points.
Soledad Aztecs
What We Know: Going back to last season, Soledad has the talent to compete with anyone, but we have been waiting for them to put it all together. If the Aztecs are going to convince us that this year will be different, this Bruins match-up should bring out their best.
Players to Watch: Dominic Chavez threw a touchdown and ran for a touchdown in last week's loss to Soquel. Daniel Raso, the former Defensive Player of the Year, will be a problem for the Bruins to handle. Victor Ruano will be a guy to keep an eye on, and don't be surprised if you hear the next day that he had a great game. With all the attention going toward Raso offensively and defensively, Ruano has the talent to dominate one-on-one.
Questions: When will Soledad put it all together? Can the Aztecs rebound after letting last week slip away?
Prediction (1-0): Greenfield looks special this year. I genuinely believe that this will be the best season in the history of the school. Regardless of what happens in this game, Soledad will still have everything to play for, but this game feels like a must-win. If Soledad starts 0-2 on the season, can they rebound from that? I'm going with the more desperate team in this one. Greenfield will score the game's first points and then see the type of fight this Soledad team has. Soledad gets back on track, winning 28-21.