GONZALES — Monterey County Sheriff's Office has arrested a man for attempted murder after he was seen dumping a seriously injured victim in a rural field near Gonzales on Wednesday.
According to the Sheriff's Office, deputies responded to the field around noon on Jan. 5 and located the victim, who was then transported to a local hospital for medical care. A Honda was seen leaving the area and deputies attempted to stop it on northbound Highway 101.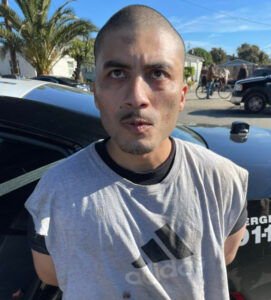 Jesus Tejeda was driving the Honda, which was stolen from Gonzales earlier in the day.
"He failed to yield to our deputies' lights and sirens and began a vehicle pursuit," the Sheriff's Office said. "Multiple deputies arrived in the area and the vehicle's tires were spiked on Highway 101 by deputies as he returned to Gonzales."
Tejeda continued to flee through the city neighborhoods, driving on a rim. He eventually stopped in a driveway and fled from the Honda.
"Fortunately, K-9 Bond was in hot pursuit and apprehended Tejeda as he attempted to jump a fence," the Sheriff's Office said.
As deputies placed Tejeda under arrest, a handgun fell from his waistband.
Tejeda was booked into the Monterey County Jail for multiple charges, including attempted murder, felony evading, vehicle theft, resisting arrest, possession of a firearm as a convicted felon and possession of a firearm with an altered serial number.
Gonzales Police Department provided assistance with the incident.
"Thanks for the great work MCSO," said Gonzales Police Chief Keith Wise on social media. "And a personal thank you to K-9 Deputy Bond!"