SALINAS VALLEY — This past weekend the Central Coast Section (CCS) held its high school wrestling tournaments for the boys and girls to determine who will represent it at the 2023 CIF State Wrestling Championships beginning Thursday.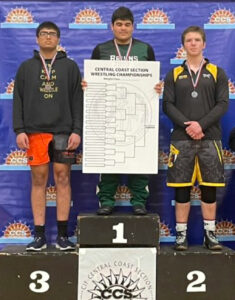 South Monterey County had three wrestlers qualify for the state championships, two of whom won their respective weight classes at the CCS tournament.
For the boys, Greenfield Bruins wrestler Marco Silva was able to go undrafted and clinched first in his weight class at 220 pounds.
Just missing out on going to State was Gonzales Spartans' 195-pounder Andrew Zarate, who placed fifth in his weight class.
The girls saw two wrestlers qualify for State. Bruins wrestler Estrella Vasquez-Gutierrez was able to run the table and finished in first place, cementing her spot at the championships.
Also qualifying for State was Soledad Aztecs wrestler Arianna Mercado, who finished second.