SOLEDAD — Soledad Unified School District recently announced that Randy Bangs has been chosen as the district's superintendent, effective July 1.
Bangs served as interim superintendent for the past six months, and had earlier served as associate superintendent of educational services since January 2018. There were 19 applicants for the position, with the board having interviewed two finalists for the position in early June.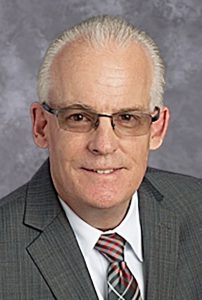 "The mindset right now is getting ready for the coming year," Bangs said about current district operations. "Coming back to full in-person learning and preparing our staff and students to do that."
Bangs described the recently completed 2020-21 school year as having been busy with sustaining the distance-learning program as well as reopening schools in May. He said the work continues as the district prepares for the upcoming 2021-22 school year.
"It's something that we usually do in summer, but now coming back to full in-person learning, there's a few more things to do," Bangs said. "We want and plan and invite everybody back for full in-person learning, full school days every day. We do understand there may be some parents that still have some concerns in regards to Covid and the safety of their students."
The district has sent out parent surveys to gauge the hesitancy among local families and to plan for alternative programs for those students. Bangs said the district's encouragement is to get everyone to come back, but they understand reservations and wish to plan accordingly once they determine the numbers.
Bangs came to the district in 1997 for what was supposed to be a planning year for Soledad High School in 1997-98. However, construction delays meant he served as Main Street Middle School principal that year, before switching over to the high school.
"I was privileged and blessed to be the first principal and truly loved that opportunity," he said. "I did that for five years, then worked in special projects for another couple years."
Bangs left to work with Salinas Union High School District for 12 years, then returned to Soledad in 2018 to become associate superintendent. He was named interim superintendent in December with the retirement of then-Superintendent Tim Vanoli.
"I love the community, which I've gotten to know two times over now," Bangs said. "What I learned in my first run in opening the high school is how invested and engaged our community is in our school district."
From opening the high school to approaching the turn of the millennium to recently working with the local control and accountability plan, Bangs has seen the commitment from local families.
In regard to district expansion, Bangs said the district has facility studies to monitor enrollment and projections. Currently, district enrollment has been even, but new housing in Soledad may change population projections.
"We will act as needed when we determine when that need would exist," he said.
Bangs added that he appreciates the efforts to reopen schools from all the teachers, classified personnel, counselors and office and administrative staff members.
"All the folks that provide instruction or support instruction have done a tremendous job during these 15 months of Covid," Bangs said. "That will continue as we go forward and fully open our schools."