SALINAS — The pain and heartbreak of an epidemic that has claimed 89 lives in Monterey County last year were raw and personal for those who attended an Overdose Awareness Day event at Salinas Valley Health in Salinas.
Glowing purple luminaries represented each one of the deaths in 2022, one of them being 19-year-old Tyler Hamilton Valdivia. With a large photo of Tyler smiling out to the crowd, mother Michelle Hamilton shared her loss.
"From his first kick to his last breath, Tyler was my world," Hamilton said. "Tyler was a kind, sweet, caring, funny young man. He had the biggest heart and silently took pride in helping people and animals. He enjoyed all the things of a typical teenager, including music, the violin and video games, but mostly hanging out with friends and family. The day Tyler left this world, is the day that my world shattered."
Erica Locke, a Salinas Valley Health ER physician and champion of the organization's Substance Use Disorder initiatives, has two children herself. Dr. Locke wanted to hold an event marking International Overdose Awareness Day to honor people whose lives have been altered by overdose and to help raise awareness while distributing hundreds of doses of free Narcan to the public.
"Everyone should be armed with information and tools to help prevent overdose deaths," Locke said. "The opioid crisis has become even more deadly as more and more street drugs are laced with fentanyl. People are taking pills and they have no idea what they are taking."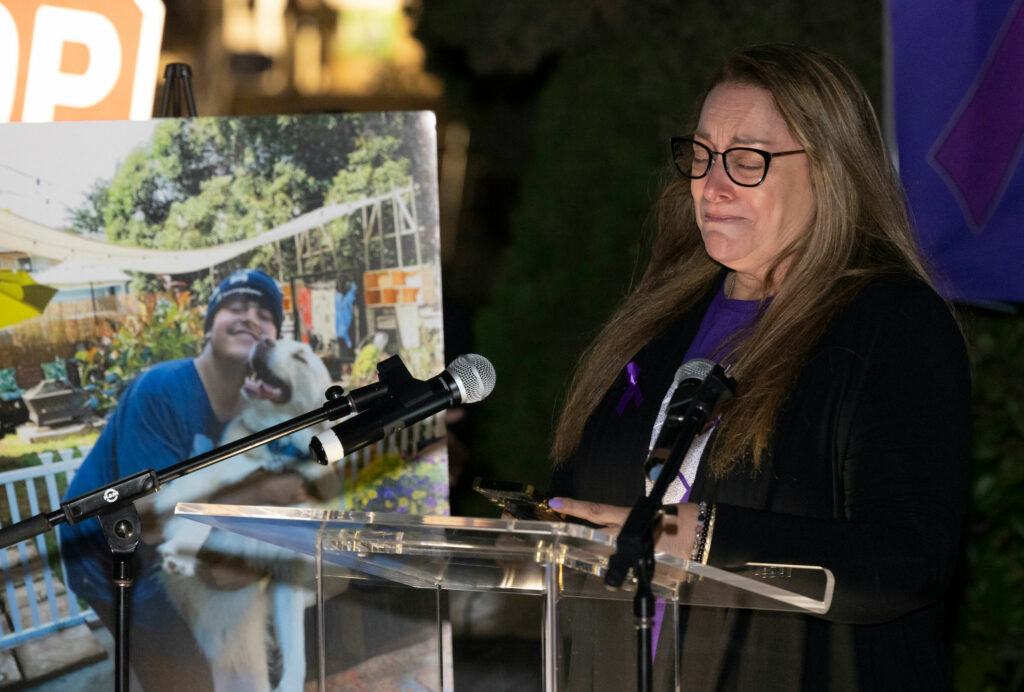 The Aug. 31 awareness and remembrance began with two hours of medical professionals providing free Narcan nasal spray to the public. When administered quickly, the easy-to-use spray reverses an opioid overdose.
Following the distribution, Hamilton was one of five speakers who shared their insights into the grief, challenges and hope that awareness and treatment can provide.
"I would do anything to keep another parent from feeling this pain," Hamilton said. "I never imagined that it could happen to me. It can happen to anyone. The drugs are that powerful. I want parents to understand it could be your child and to know the signs and symptoms."
In addition to the luminaries laid out in the design of a purple ribbon, there were 872 purple flags on display representing the number of overdose cases last year in Monterey County.
Other visuals were even more poignant. Parents wearing T-shirts with the faces and names of children lost to the epidemic and holding framed photos of their loved ones. The images were all somber reminders of the toll opioids and fentanyl are taking in Monterey County.
"We need to act with empathy and compassion," said Guillermo Rodriguez, Salinas Valley Health ER social worker. "We are helping people get the support, help and resources they need to break free of addiction and to meet them where they are. There is no place for judgement in solving this crisis and saving lives."
Many of the resource partners Salinas Valley Health works with in addressing substance use disorder were part of the program, including Prescribe Safe, Beacon House/New Start Recovery Solutions, Door to Hope, Sun Street Centers and Valley Health Associates.
One of the speakers credits social worker Rodriguez and Door to Help for helping her end a more than decade-long addiction to opioids and in recent years, fentanyl.
"When I connected with Guillermo, he put me in touch with Door to Hope and I have been clean in recovery for eight months," said Raquel Lazo, a Salinas resident and recovering addict. "It is such a gift. I have my life back. I have my daughter back and I am enjoying life in a way I never could before. I want to give other addicts hope. There are people who can help and want to help. You just have to let them in and want to let go of the life that is causing you and your family pain and suffering. It's hard — I'm not going to lie — but it is worth it."