SALINAS — A Salinas Police Department officer was shot and killed late Friday night during a traffic stop.
According to Salinas Police Chief Roberto Filice, around 10:45 p.m. on Feb. 25, Officer Jorge Alvarado Jr. made a traffic stop on Griffin Street at East Market Street. For unknown reasons, Alvarado and the suspect he pulled over exchanged gunfire.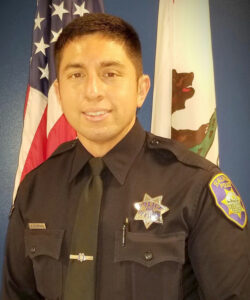 Alvarado, 30, a five-year veteran in policing, was hit at least once and died shortly after, police said.
The suspect, later identified as Gustavo Matias Morales, 31, was taken into custody.
"I'm at a loss for words," said Salinas Mayor Kimbley Craig. "Our community and our police department are devastated. The death of a Salinas Police officer in the line of duty has not occurred in nearly 80 years."
The investigation has been turned over to the Monterey County District Attorney's Office.
In a news release Tuesday, Monterey County District Attorney Jeannine M. Pacioni announced that she charged Morales with the murder of Alvarado. A special circumstance for murdering a police officer and charges of shooting at an occupied vehicle and a firearm enhancement were also filed.
"The special circumstance renders this murder a capital offense punishable by death or life in prison without the possibility of parole," Pacioni said.
According to the DA's Office, Morales suddenly pulled over in his vehicle during the traffic stop, immediately exited and fired a "barrage of rounds" at Officer Alvarado while quickly advancing on his patrol car.
Alvarado, while still seated in his car, returned fire during the shooting, injuring the suspect's hand.
"The officer stayed in the fight all the way to the end," Filice said. "Ultimately, he paid the price for it. He gave his life for it. But thanks to his actions, we were able to apprehend the suspect, and we currently have him in custody. One of my officers, one of your officers, did the hardest thing anybody can ask any officer to do. He gave his life to his community."
On Saturday, the County of Monterey announced that it would fly its flags at half-staff in honor and memory of Alvarado.
Morales was scheduled for arraignment Tuesday afternoon at the Monterey County Superior Court.
---
Tarmo Hannula contributed to this story, which has been updated with additional information.