SALINAS — Regular crowds of at least 3,000 have attended the weekly Salinas Farmers Market since its move to Main Street earlier this year.
The Saturday market has become a small community event, drawing hundreds of people within the first few minutes of the opening hour, with lines forming early at the most popular of the 70 vendors present.
Market Manager Jerry Lami said in his experience opening as many as 30 farmers markets, he found year-round markets were not only important, but also possible in the region.
"In California, we have produce available to us all year-round," Lami said. "Vegetables grow here all year-round as long as we have sunlight."
He added that fruits and orchards were productive throughout the year too, noting summer navel oranges and winter Valencia oranges as one paired example, as well as apples and persimmons in time for winter with their October harvests.
As the market operator at Salinas Farmers Market for the past five years, Lami said his familiarity with state agriculture came from years of experience with West Coast Farmers Markets as well as his time as a produce manager for Lucky stores.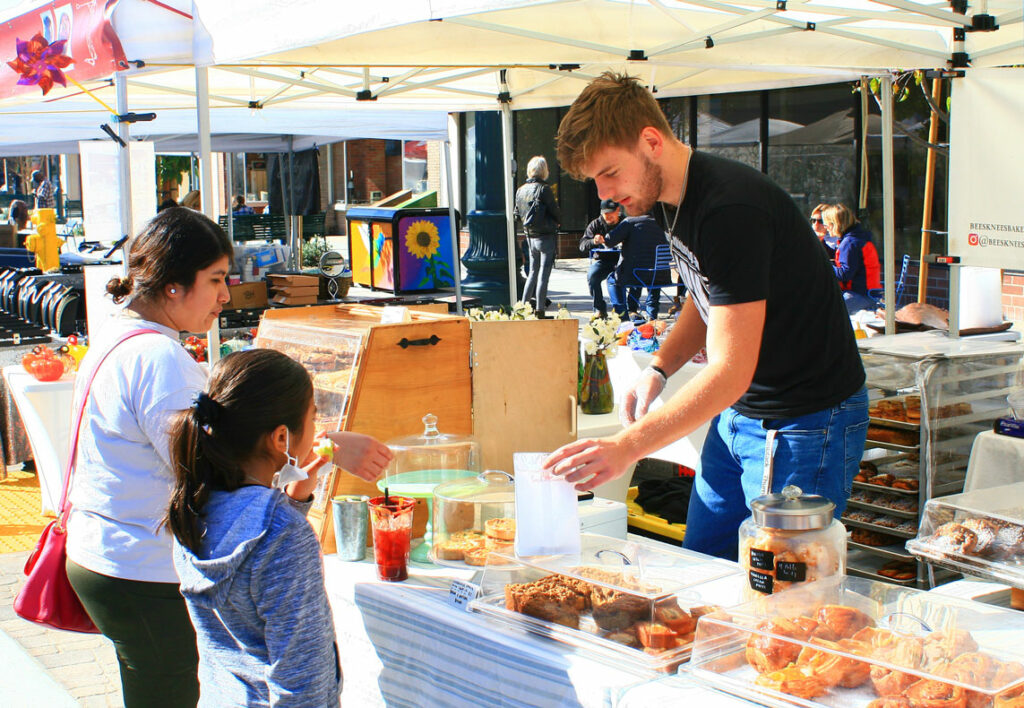 In addition to featuring area produce, Lami said farmers markets, including the Salinas market, have a community component.
Not only are they gathering places for people of all ages to go with their friends and family, but also the varied vendors give them options beyond grocery shopping. Bakers, jewelers, car detailers, skin care experts and artists are among the many types of non-produce businesses present.
Beyond fruits and vegetables, Lami noted popular items include cookies, macaroons and sprinkle pops.
"A farmers market has become more than just dealing with fruits, vegetables and things that are growing," he said. "It's become a community event, almost a festival."
Joel Panzer, the vice president of the Oldtown Salinas Foundation, called the market a type of "community block party."
"Different people come for different reasons," Lami said. "Some people come to do their weekly grocery shopping and others come to have lunch with their family."
Lami added the market's business reaches outside the closed lanes and into the surrounding businesses in the downtown area. He explained that customers at the market would wrap up their trip with visits to surrounding shops, such as restaurants and tea shops.
"The local merchants have welcomed us with open arms," Panzer said of area merchant reaction.
With 70 vendors operating in a one-block area, Lami said they have a maximum capacity of 72 vendors, as well as a waiting list of almost 130 vendors. Future expansion into other blocks is a possibility, and for the time being Lami said he is interviewing vendors on the waiting list.
His goal, he said, was to have the event include more local businesses, as it already features a variety from Watsonville down to the Salinas Valley.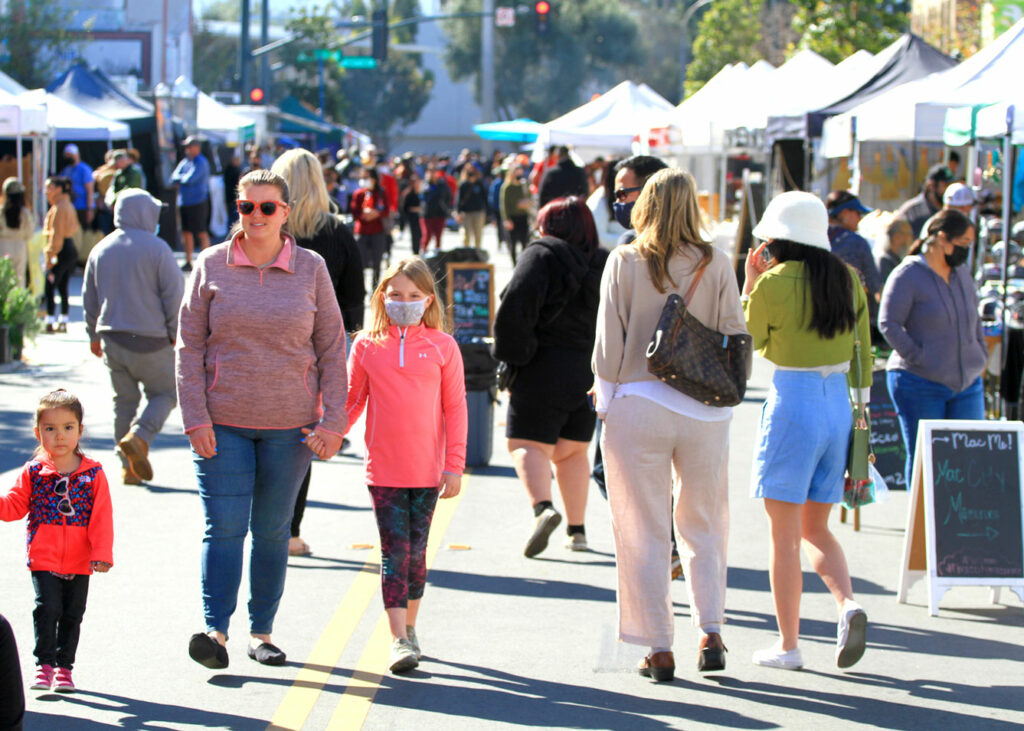 Being open year-round as a reliable market has helped with popularity, Panzer noted.
"We're one of the few farmers markets that stayed open during the pandemic," Panzer said.
He explained the first few weeks of the pandemic brought a dip in attendance, but after the first month, attendance rebounded back to typical levels.
"The continuity of people being able to have the market on a weekly basis is what led to our popularity," Lami said.
Both Panzer and Lami explained the Covid-19 pandemic operations included many safety precautions, but also a rise in children's activities to foster a family atmosphere.
"We went through a lot of chalk marking off social distancing," Lami said.
The market previously took place at the intersection of Gabilan and Main streets from 2015 until Jan. 29 of this year, with the new location on the 300 block of Main Street offering more vendor space after the market grew in attendance.
"This has really grown," Panzer said.
Lami and Panzer said the attendance range of 3,000 to 4,000 makes the Salinas market a contender for most popular in the county, which helps the vendors. The popularity means long lines for longtime vendors who have become crowd favorites, such as bakeries and potato sellers able to draw stable lines of 20 to 30 customers.
Both pointed out Secret Bakery, which had been at the market throughout the pandemic. It had a line of at least a dozen within minutes of opening at the March 12 market. With bakeries being so popular, Lami said there were seven present and he was interviewing another to add as the eighth.
"It's a business incubator to a certain degree," Lami said of the market's effects on small businesses, which begin as booth vendors.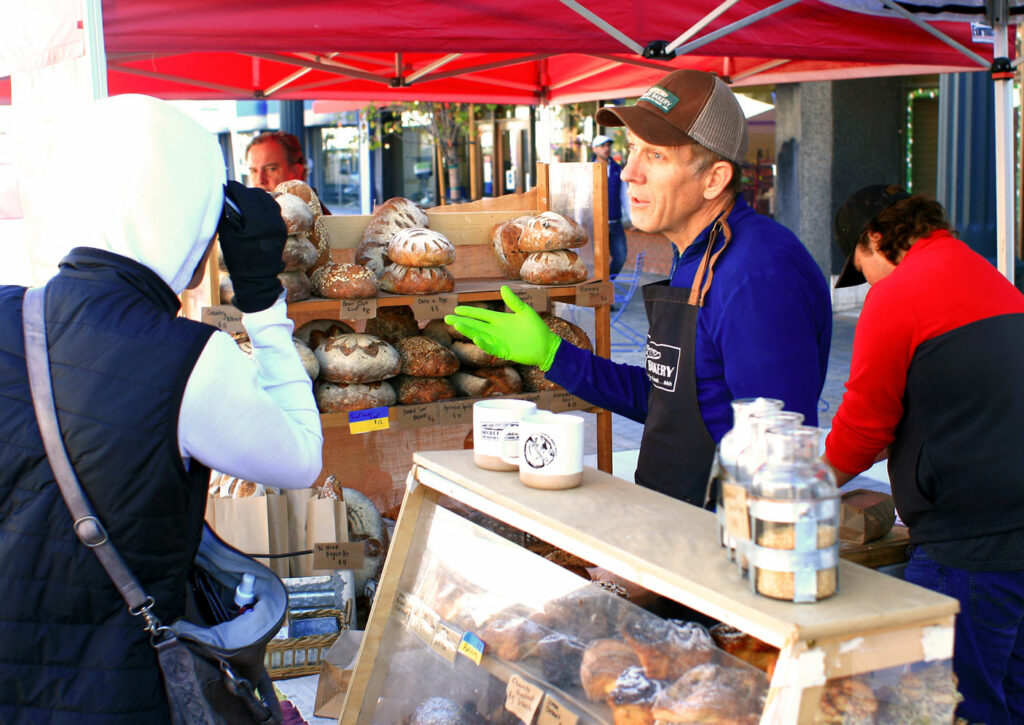 Panzer said the Oldtown Salinas Foundation is a nonprofit, meaning proceeds from the farmers market go back toward operations and hosting community events. Those range from holiday events at the market, such as on Halloween and Mother's Day, but also to larger stand-alone offerings, such as the Salinas Valley Food and Wine Festival.
Funding for the farmers market comes from vendor fees, Panzer said.
Salinas Farmers Market takes place on Saturdays in the 300 block of Main Street, from 9 a.m. to 2 p.m. For more information, contact [email protected] or 831-758-0725.