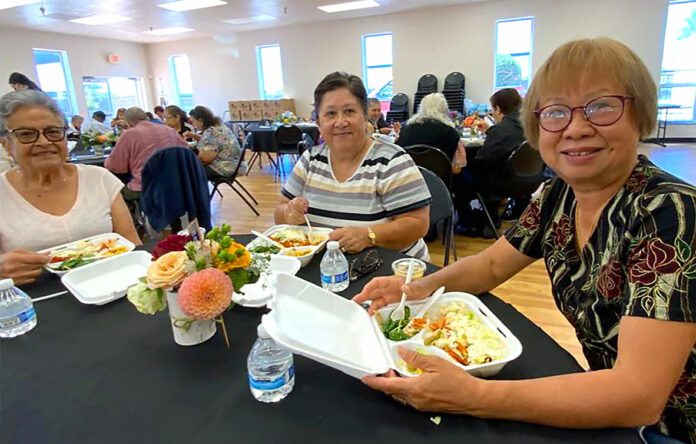 GREENFIELD — Meals on Wheels of the Salinas Valley's SOCOS (SOuth COunty Senior) Socials program is growing this month to include the Greenfield community.
In collaboration with the City of Greenfield, Meals on Wheels will host the first Greenfield SOCOS Social on Wednesday, Sept. 14, from 11 a.m. to 1 p.m. at the Greenfield Memorial Hall, 615 El Camino Real. This will be the program's fifth monthly event, following popular socials in King City, Soledad, Gonzales and Castroville.
"Not only are we celebrating the one-year anniversary of our SOCOS Socials this September, the program continues to grow as the need for senior activities rises," said Regina Gage, executive director of Meals on Wheels of the Salinas Valley. "… These congregate luncheons have been so popular, well-attended and a much-needed activity for seniors in the communities of Castroville, Soledad, Gonzales and King City that the City of Greenfield reached out to us. The socials are a fun and creative way to help seniors' mental health and all-around well-being."
The socials provide an opportunity for seniors age 60 and up, who are impacted by the Covid-19 pandemic, to interact while enjoying a free lunch and entertainment, along with receiving information on local resources in a safe and festive environment.
These "social hours" are being held monthly: on the first Thursday of the month in King City; on the second Tuesday of the month in Soledad; on the second Wednesday of the month in Greenfield; on the third Thursday of the month in Gonzales; and on the fourth Wednesday of the month in Castroville.
In addition to lunch being served to attendees at all five locations, the Food Bank for Monterey County provides guests with a complimentary goodie box filled with local fresh fruits and vegetables.
A variety of senior resources are also available at each social. Representatives from such agencies as Alliance on Aging, American Red Cross, Blue Zones Project, California Highway Patrol, Heal Together, ITN Monterey County, Legal Services for Seniors and Monterey-Salinas Transit are available to talk with seniors about their specific concerns and provide detailed information as needed.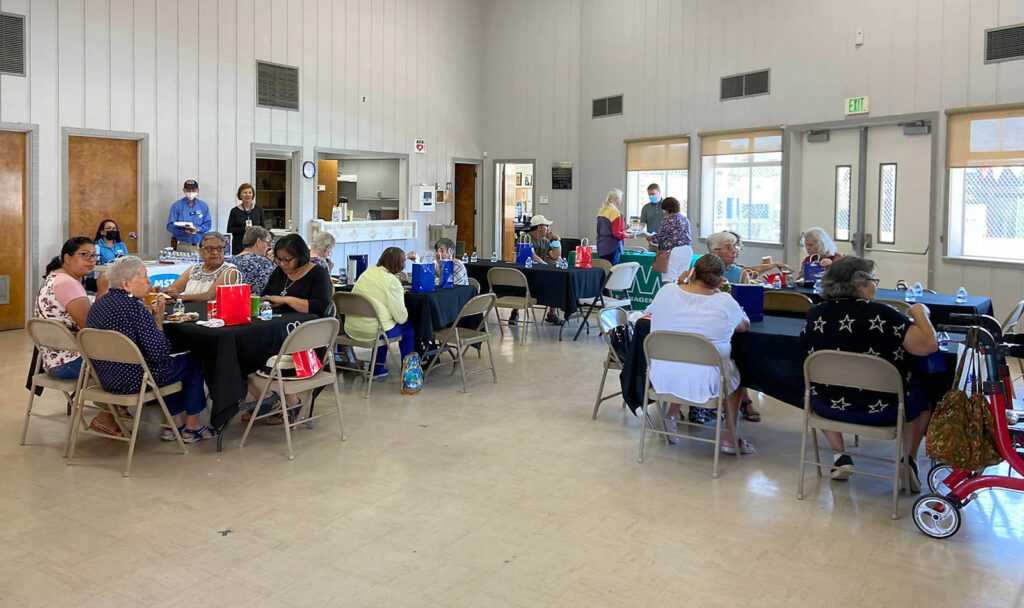 Advanced registration is strongly encouraged at all the socials.
In Greenfield, senior residents can call Braulio Fabian with Greenfield City Hall at 831-304-0116 to register. To ensure enough meals will be available, participants are being asked to register by Sept. 9.
Soledad will have its next SOCOS Social on Tuesday, Sept. 13, from 11 a.m. to 1 p.m. at the Soledad Community Center, 560 Walker Drive. Seniors can call 831-223-5250 to register or stop by the community center to register in person.
In partnership with Adventure Seeking Seniors, Gonzales' social will take place Thursday, Sept. 15, from 11 a.m. to 1 p.m. at St. Theodore's Church Parish Hall, 116 S. Belden St. Senior residents age 55-plus can call Marilyn Duby at 831-675-2579 or Lupe Kinnear at 831-809-8216 to register.
King City's program, which was most recently held on Sept. 1 at the King City Rec Center, is open to seniors who live in King City, Lockwood, San Lucas and San Ardo. RSVP to attend by calling Andrea Wasson at 831-385-6748 or emailing [email protected].
In Castroville, the NOCOS (NOrth COunty Senior) Social will be held Wednesday, Sept. 28, from 11 a.m. to 1 p.m. at North County Recreation and Park, 11261 Crane St. Seniors who live in the Castroville area can call Alex Lopez at 831-633-3084 to register.
This year Meals on Wheels of the Salinas Valley is celebrating its 50th anniversary of serving seniors throughout the region. It currently delivers fresh, locally sourced and prepared frozen meals every week to homebound seniors in the city of Salinas and rural communities in North and South Monterey County, including Castroville, Gonzales, Soledad, Greenfield and King City.
For more information about the meal service and programs, visit mowsalinas.org.