SOLEDAD — After former Soledad High alumnus and current Hartnell Panthers wide receiver Josiah Freeman attended the Sacramento State Rising Star Mega Camp, he impressed so many there that his phone kept ringing from major Division I colleges.
But when he finally received a full-ride scholarship offer to attend California State University, Fresno — the school he fell in love with after attending a game — his mind was made up.
"After the Sac State camp, my phone was going off like 24/7," Freeman said. "Pac-12 schools kept calling, but when I asked myself if I saw myself playing at Fresno, I was like 'yeah.'"
Freeman's career started with youth football team, the Soledad Warriors. Coming from an athletic family, football came naturally to him, and he hasn't stopped playing since.
"I fell in love with the game because I was just naturally good at it," Freeman said. "I loved scoring touchdowns. I loved playing with my teammates and cousin."
His talent made him stand out at Soledad, where he helped the Aztecs make the playoffs and was named to the Mission Division all-league first team.
Coming out of Soledad High, Freeman described himself as an "average receiver." He knew that if he was going to fulfill his dream of playing football at a higher level, he would have to get better.
"I was at the park every day working on my routes, hands and speed," he said. "If you would compare my high school film to my first year in college, you will see a major difference."
Freeman had extra time to improve because his first season at Hartnell got canceled due to Covid-19. Instead of getting discouraged about the situation, he continued to work on his game.
"I knew it would be a while before we could play, but I stuck it out," he said.
After a year off, Freeman was finally able to play again. In his next season, he didn't disappoint, as he had 50 receptions and 866 receiving yards, with 10 touchdowns.
Other colleges started to take notice of Freeman's performance during the season, and slowly, the offers began to come in. Western Kentucky University was the first Division I school to offer him a scholarship, but it was Fresno State that won him over.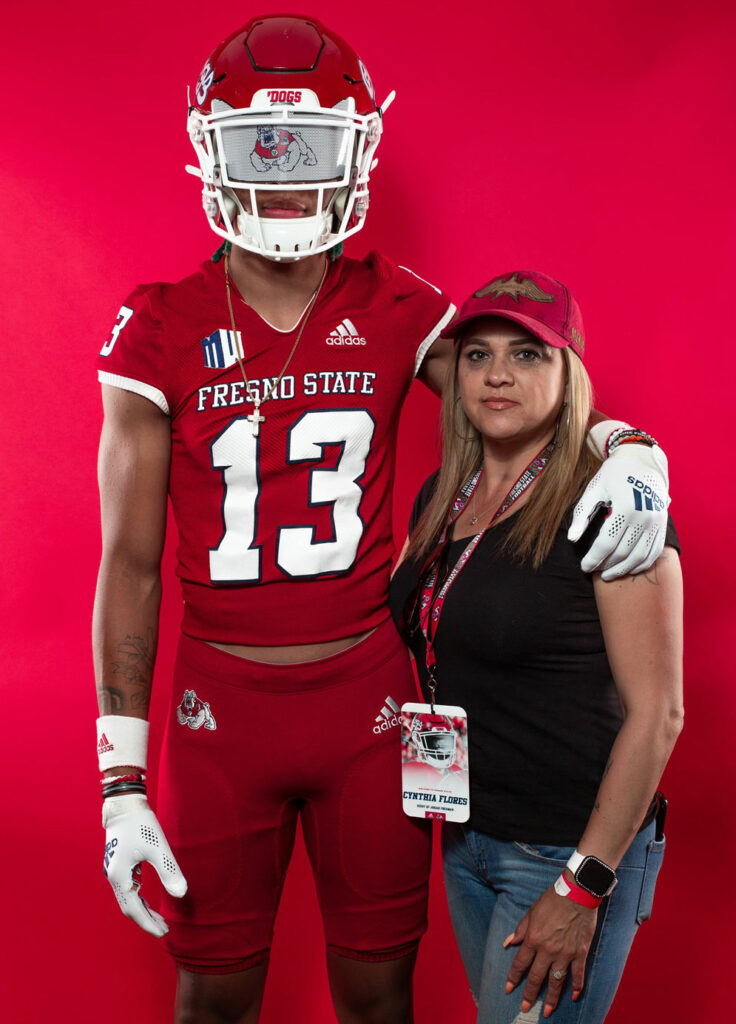 During the season, he was invited to attend Fresno's game against the University of Nevada, Reno, and once he got on campus he felt a connection.
"When they invited me out to their first game against Nevada, I just fell in love with the atmosphere," Freeman said. "I was like, 'I can really see myself playing here.'"
An official offer, however, never came. The recruitment process was stressful for Freeman because of so many coaches trying to convince him to sign.
"The whole recruitment process is stressful," he said. "You have all these coaches telling you different things."
Throughout the recruitment process, Freeman's mother was his biggest supporter. Growing up, she taught him not to give up and that things always get better.
"She was a single mom raising five kids," Freeman said. "She never quit or put her head down. She just kept going. That is something I keep with me. There will always be tough times, but I'm never going to quit because there is always light at the end of the tunnel."
In the meantime, he had racked up six Division I offers. Universities from Nevada to Texas had been interested, but he never rushed his decision to commit. He had one more opportunity to impress more college coaches at the Sacramento State Rising Star Mega Camp.
After all the hard work he put in, Freeman's dedication to football finally payed off as he put on a performance that opened up tunnels to the Pacific Coast Conference, the top college football conference on the West Coast. Both the University of Washington and Oregon State University offered him a scholarship.
"I worked hard," Freeman said. "I knew times like these were going to come."
After day one of the camp concluded, Freeman finally got the offer he was waiting for when the Fresno State coach offered him a full scholarship in person.
"I don't know how to describe it, but I was like 'finally,'" Freeman said. "I've been talking to them since last season. They showed interest but never offered me. To finally hear them offer me a full ride in person felt like a big accomplishment."
When Freeman committed to Fresno State, it was a relief for him. Now, he can direct all his focus to his final football season at Hartnell College in Salinas.
"Finally, choosing where I want to play takes a lot of weight off my shoulders," he said. "Now I can just worry about school and this upcoming season."
With Freeman signing with Fresno State, it's a historic move for the city he grew up in. He will be the first Soledad High alumnus to ever play major college football.
Many high school athletes who have followed Freeman on social media have been inspired by his journey, which has motivated local youth in his community.
"It means a whole lot now," Freeman said. "I have a lot of high school kids texting me: 'You really inspire me to play football at the next level.'"
Freeman will close the chapter on his Hartnell career after this football season and transfer to Fresno State in December. The Soledad native now gets to create a new chapter that has yet to be written.
"Since I was a kid, I wanted to play at the highest level possible," Freeman said. "Just watching it all happen, it's been a real blessing."