GREENFIELD — Greenfield City Manager Paul Wood has appointed Capt. Guillermo "Bill" Mixer as chief of police for the City of Greenfield effective April 27.
As police chief, Mixer will also serve as a member of the Greenfield Executive Team, reporting to the city manager, and will participate in citywide management efforts. According to Wood, Mixer "will continue to bring integrity and passion to the city and will serve all of the community well."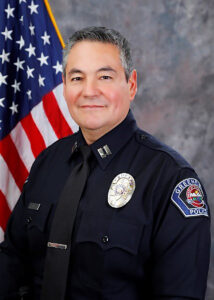 Mixer started his law enforcement career with the Los Angeles Police Department in 1995. As a young officer, he worked patrol in North Hollywood, Rampart and the 77th Street Division in South Central Los Angeles, where he spent most of his career.
He worked his way up from patrol, gang officer and detective, to the South Bureau Criminal-Gang Homicide Division, where he served on several federal task forces with the FBI, ATF, DEA and the Secret Service.
Mixer retired from the LAPD in 2014, moved to Monterey County and worked for the Monterey County District Attorney's Office, moving through the various investigation units and positions, including interim captain.
In early 2021, Greenfield Police Chief Gregory Allen recruited Mixer to join the Greenfield Police Department as a sergeant, then was promoted to captain in September 2021. Shortly after, he stepped in as acting police chief for Allen and has spent the past 17 months in this leadership role.
Mixer has a bachelor's degree in criminal justice and a master's degree in law enforcement and public safety leadership from the University of San Diego. He also received a professional certificate in management from the University of Notre Dame.
"I am excited at the opportunity to lead the men and women of the Greenfield Police Department and serve the community of Greenfield," Mixer said of the promotion. "I'm eager to get started on this exciting journey as the next police chief."
Allen retired from the City on March 10, after 45 years in law enforcement. He previously served as Greenfield's police commander and acting police chief, and was honored to return to the City as police chief in 2019. His strategic initiatives focused on crime reduction, community empowerment, employee development and problem-solving.
As a result of his leadership, the City of Greenfield has realized "significant reductions in violent and property crime, as well as the fear of crime," according to Wood. His leadership focused on creating opportunities to rebuild community trust while increasing police involvement with youth.
"Greg's commitment to the re-building of the foundational aspects of the Greenfield Police Department has had profound impacts on not only the department, but the rest of city staff and most importantly, the community," Wood said. "We see his impact every day. It is a positive, forward-thinking can-do attitude that focuses on honesty, team and hard work. We thank Greg for his service, and we will miss him."
The City of Greenfield will host a swearing-in ceremony for Mixer on Friday, May 26, at 2 p.m. at Greenfield City Hall, 599 El Camino Real.