SALINAS — Google and Cal Coastal Small Business Development Center (SBDC) hosted a free, in-person workshop for small businesses in Salinas on Aug. 3, during which U.S. Congresswoman Zoe Lofgren attended and spoke about the importance of California businesses learning digital skills.
"If we want every American business to have a chance to fully participate in the regional, state, national and global economies, we need small business employees to have digital tools and skills," Lofgren said. "Rural and farming communities are often left behind, and I commend and support both public and private efforts that help shrink the digital divide. I encourage Google and other innovative companies to continue looking at the Salinas Valley as a place to train, grow and foster small businesses."
Through the "Reach Customers Online with Google" workshop, California's Grow with Google Digital Coach Roberto Martinez helped small businesses learn how to create and manage a Google Business Profile from start to finish, including how to create or claim a Google Business Profile, manage business info across Google Search and Maps and use a Business Profile to connect with potential customers.
"Small business is the lifeblood of any community," said Salinas Mayor Kimbley Craig, who also attended the workshop held at the CSUMB at Salinas City Center in downtown Salinas. "Salinas is thrilled to have Google here to ensure our business community has the tools necessary to create a successful economy."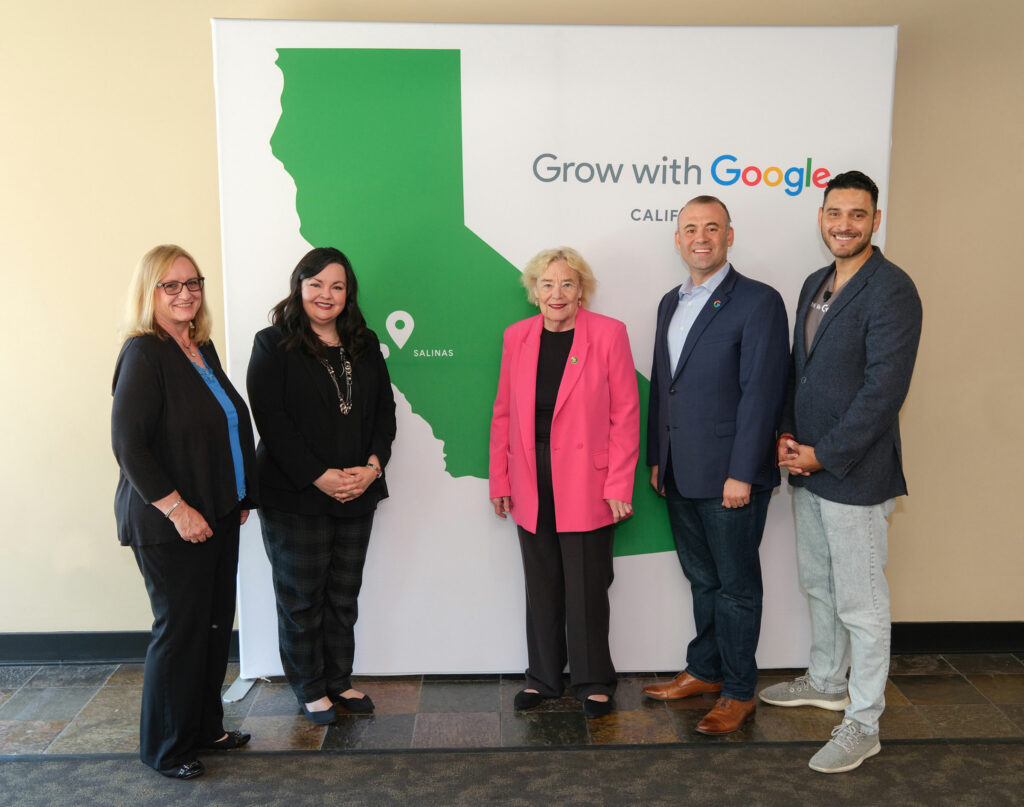 According to the Connected Commerce Council, nearly 75% of small business leaders say that they are adopting digital tools to help their businesses navigate economic conditions heading into 2023.
"We are excited to bring Google's digital resources to our local businesses as a way to strengthen local sales and, in the long-term, support business success in our competitive marketplace," said Cindy Merzon, director of Cal Coastal SBDC. "Claiming their Google Business Profile increases business visibility and makes it easier for customers to find them."
Since 2017, the Grow with Google Digital Coaches program has trained more than 160,000 small businesses.
Grow with Google Digital Coaches are local marketing experts and entrepreneurs who help diverse small businesses grow. The coaches provide digital skills training, hands-on coaching and opportunities to meet and learn from successful entrepreneurs.
"Google is committed to creating new economic opportunities for small businesses in California. To date, we've worked with hundreds of organizations to train more than 1.3 million Californians on digital skills," said Javier González, head of Google's Local Government and External Affairs for California. "We're proud to continue this work by partnering with Cal Coastal SBDC to help more small businesses and entrepreneurs in Salinas and the surrounding area grow their online presence, reach new customers and unlock additional sources of revenue."
Over the past year, more than 2.22 million California businesses used Google's free tools to receive phone calls, bookings, reviews, requests for directions and other direct connections to their customers. To learn more and sign-up for an upcoming local workshop, visit g.co/grow/digitalcoachCA.