SALINAS — Gonzales native and motorcycle professional rider Frankie Garcia competed for three days last week at the Geico Motorcycle Superbike Speedfest at the Weathertech Raceway Laguna Seca in Salinas.
Garcia, the 30-year-old son of Frank and Nancy Garcia, has been riding motorcycles from the time he could walk and is currently riding for Indian Motorcycles.
At Laguna Seca, Garcia competed in race trials in the Baggers Race as well as raced in the Super Hooligan Race.
After earning a spot in the Baggers Race finals, Garcia rode his Indian Challenger 1200 cc bike to a fourth-place finish in a time of 1:32.327 in the eight-lap race.
"Frankie placed third in the Baggers Race here at Laguna Seca last year in front of a near empty race track," Frank Garcia Sr. said. "This year we had lots of people who could attend as the Covid restrictions were lifted. I was fortunate to help out as a pit crew member for the weekend. The Baggers racing was a five-race series and Frankie raced in four of the previous competitions. Frankie was racing for third place and tried to make his move in the final lap but just came up short. All the guys in the race are solid racers."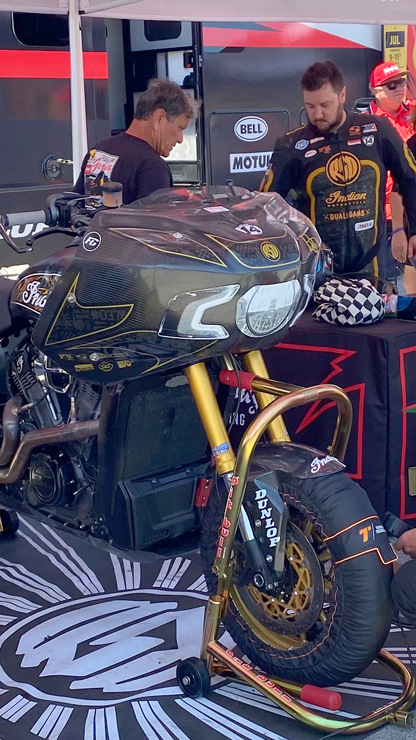 Immediately after competing in the Baggers championship, Garcia switched bikes to race another Indian motorcycle in the Super Hooligan final. He placed seventh in the Hooligan Race.
Garcia has recently moved to Southern California but will continue to race for Indian Motorcycles. His next race will be a Hooligan Race competition that will take place at Castlerock, Wash., on Aug. 15.