GONZALES — During a recent special Gonzales Unified School District Board meeting, the trustees voted to have a synthetic turf installed at Gonzales High School's Dick Force Stadium.
The new field, along with an all-weather track, will give the Spartans and the Gonzales community their first turf and all-weather facility in South Monterey County.
The Board of Trustees listened to a presentation by Architect Luis Vargas of In Studio Architecture and Larry Foster, the landscape architect for the project. Vargas is a 1988 Gonzales High School graduate.
The Board then heard from members of the public regarding the pros and cons of artificial grass.
At the end of the July 24 presentation, discussion and comments by each trustee, the decision was made by a 4-1 vote to approve the synthetic turf field.
Board President Araceli Flores made her decision after hearing from community members, coaches and athletes to vote for the turf field.
"I listened to coaches who have had experience on turf with different sports and heard a soccer athlete talk about her experience of games being canceled and not being able to play because of gopher holes," Flores said. "A coach also made a point to say if we're going to redo the whole stadium, why not give the kids something the deserve and something they can be proud of."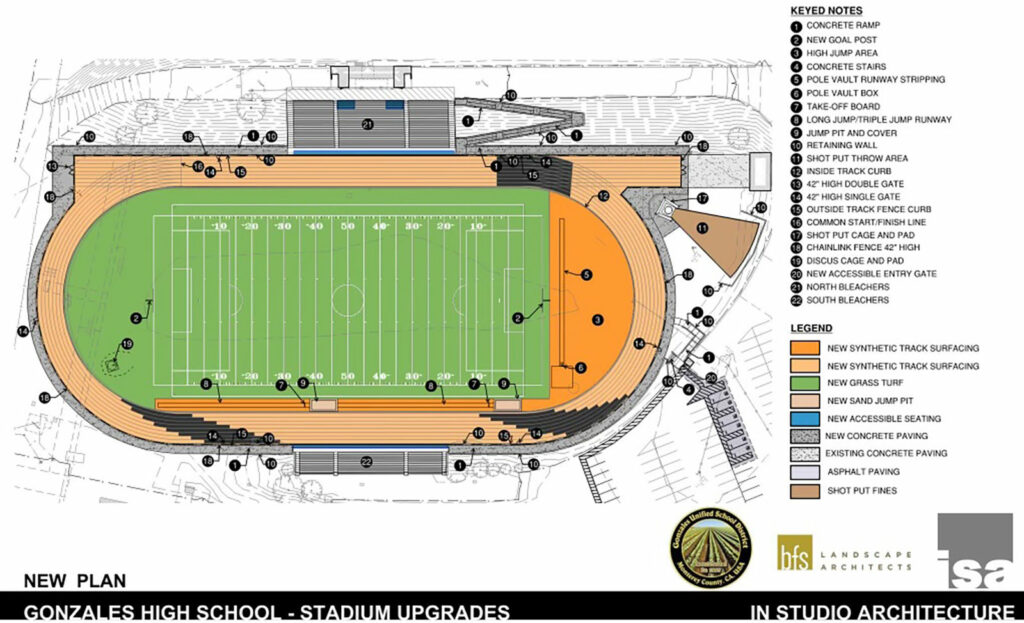 Gonzales High School Athletic Director Margie Daniels was pleased the track and turf projects would be taking place to provide an outstanding facility to athletes and all students.
"It's a feeling of relief that our student-athletes will be able to not only practice, but compete on a facility that is safe," Daniels said. "I look forward to showcasing our track athletes at home meets since we have a strong program. It will be nice to not have to 'guess' where the exchange zones are or where the hurdles go, as well as not having to hammer down blocks with dirt blowing in everyone's faces."
She added, "During P.E., we can use the various field dimensions for the activities within our curriculum that we haven't been able to do in the past and utilize the track for the physical fitness tests and cardiovascular fitness activities. No more worrying about large puddles or sunken dirt when the rain hits. Our English and Math buildings won't have to deal with track athletes zooming down the halls when the weather brings us indoors."
Board Member Janet Pacheco had made her decision regarding the turf or grass before the evening meeting and was pleased that the Board voted for the turf.
"I always felt that going with turf is the way to go," Pacheco said. "I listened to the students and the community before voting for the synthetic fields that will modernize our facility and give our players a quality home field."
The stadium upgrade could begin this fall once bids are taken and architectural plans have been approved by various agencies.