GONZALES — Art Berlanga announced he would no longer be the football coach at Gonzales High School, effective immediately on March 11. 
Berlanga had time to tell the most-affected by his decision beforehand in a coaches meeting and a team meeting with athletes prior to the announcement. He said it was a tough decision but the result of both his increased passion for public speaking and his realizing his sports goals were not in alignment with the district.
"When my vision and my philosophies on sports are not aligned with the decision-makers, that tells me it's time for me to find a new room," Berlanga said. "That tells me I'm no longer their guy. I'm OK with that."
He explained he hasn't heard from administration in response to his resignation as coach, but that he did offer to assist with the hiring process of a new coach or could recommend an interim head coach from his coaching staff.
"They have a full off-season to take the time and due diligence required to hire a quality coach," Berlanga said.
In the meantime, Berlanga teaches physical education at Fairview Middle School, and said he has a passion for teaching that makes the job a fulfilling one for him.
Still, he left behind a team who had seen him as a leader to strengthen the overall performance on the football field in past years.
Berlanga quoted Maya Angelou in saying, "'People will never forget how you made them feel.' … That's the legacy I want to leave behind as I begin the new season in my life." He added that he wanted to make sure the young adults he worked with "will never forget how they feel when they're around me."
The impact of that leadership relationship went both ways, as he explained the emotional moment that overcame his announcement to the team.
"I was doing fine and able to get my thoughts out," Berlanga said. "Once they started talking and expressing their gratitude and sharing their stories, I had no idea I had this impact, that's when the floodgate opened, where I couldn't control myself. It was very emotional and very tough."
The connection with his team has been what Berlanga called one of the toughest decisions of his life.
"I've been emotional, even crying on and off," he said.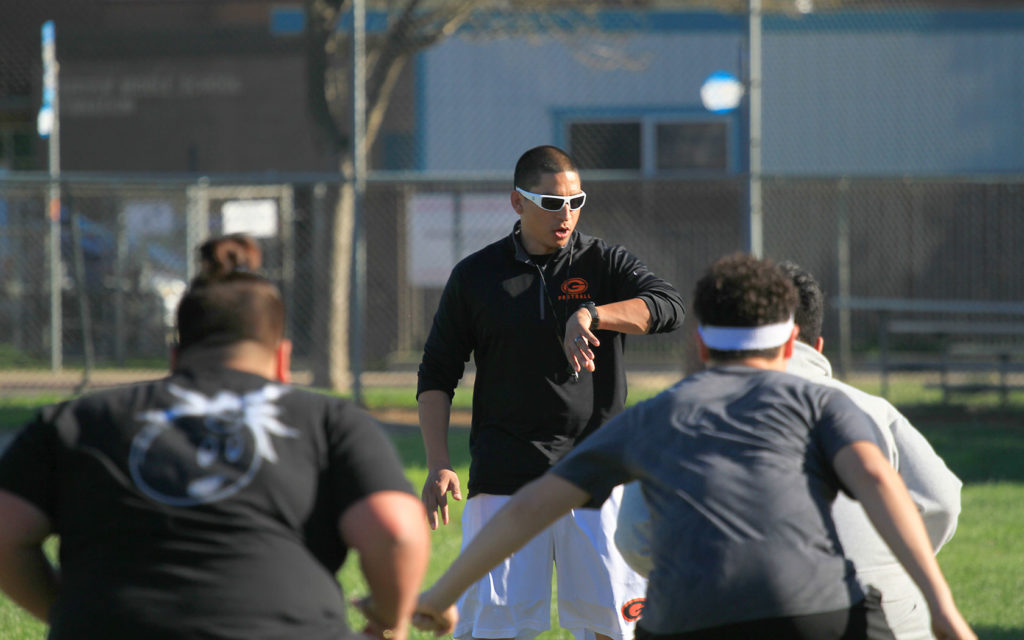 The idea to change up from the football field to public speaking and motivational work was something Berlanga was set on.
"I still would have resigned at the end of the season regardless," he said. "This was going to be a decision made regardless of whether we had a season or not."
Berlanga will speak this summer at three motivational conferences and is co-writing two coaching books. The interest in such endeavors was sparked because of the ample downtime during the Covid-19 shutdown.
"I have developed goals and aspirations because all I had was time," Berlanga said. "It never would have transpired if it wasn't for Covid, because I would have been busy getting ready for the season, and next game and next game. This whole time has really allowed me to develop and discover this passion for speaking and these opportunities I've been getting are only expanding."
Among the plans to write and prepare for book tours, Berlanga is planning to launch a Winner's Mindset success program in July, which requires him to work on a curriculum and website beforehand.
"That's the first reason why I had to take a step back from being a head coach," he said. "I cannot do these things if I'm still coaching."