GONZALES — While heading up north to check out colleges for his brother, Gonzales High School senior Gabriel Mendez was then just a kid entering the eighth grade trying to enjoy his summer and not be stuck in a car for a 15-hour road trip.
Mendez, who graduated last Saturday, wasn't interested in his plans after high school at the time; while touring the campuses, he didn't pay attention to what the tour guides were saying. But the University of Puget Sound in Tacoma, Wash., caught his attention, thanks to the Harry Potter series by J. K. Rowling.
"I remember how the school reminded me of Hogwarts," Mendez said. "After visiting a bunch of schools, that was the only school I remembered."
Little did he know at the time he would be writing the next chapter of his life there.
Entering Gonzales High School, Mendez didn't play any organized football and was a baseball prodigy, as he would be a four-year varsity player during his Spartan career. Although baseball was his best sport, as he got older, the love for the game wasn't the same.
"I tended to play baseball the most," Mendez said. "But as I got older, I didn't love it as much."
Mendez's father, Rene, the Gonzales city manager, thought his son had a promising career in baseball and that it would be in his son's best interest not to play football because he had some minor concussions before entering high school.
Before Mendez could even step foot on campus, former Gonzales Head Football Coach Art Berlanga had already set his sights on him.
"Gabe was in my PE class and I already heard a lot about him," Berlanga said. "He was a really good athlete. He would probably be the best athlete coming out of that class."
So everyday Berlanga turned on his gift of persuasion and aimed it at Mendez for one whole year until he finally said yes.
"Every single day I started working on him," he said. "I would tell him, 'I'll be ready for you next year. You will make our team so much better.'"
After being convinced to join the team, Mendez's next step was to find a position to play. Naturally, because he was able to throw, a baseball coach thought it would be a good idea to try him out at quarterback.
"He wanted me to try out for quarterback since he knew I played shortstop," Mendez said.
Mendez, however, didn't enjoy playing quarterback in his first year as he realized that throwing a baseball and football are different when it comes to the motion. He wasn't going to quit on his team, even though he thought playing receiver would be more fun for him.
"I didn't enjoy playing quarterback," he said. "I wanted to switch to receiver, which worked out much better for me."
It took an injured ankle to knock Mendez out of the quarterback position. Shortly after, in a game against North Salinas High, he would get his chance to play receiver when their starting receiver got hurt. Since then, he never left the position.
Going into his junior year in 2020, which would have been his second year of football, he was expected to start at wide receiver on a varsity team that could have been better than the team that went 11-1 and won the Santa Lucia Division.
Due to the Covid-19 pandemic, Gonzales High decided to cancel that fall season of sports.
What affected Mendez the most about the season being canceled was the fact that he wouldn't be able to share the field with some of his teammates that year after the bonds they built with each other.
"Going into that season, I was very excited," he said. "I had a really good relationship with the class above me. I thought we had a chance to be very successful with Coach Berlanga leading us. And when Covid hit, it was depressing because we didn't get a chance to show the team we would have had."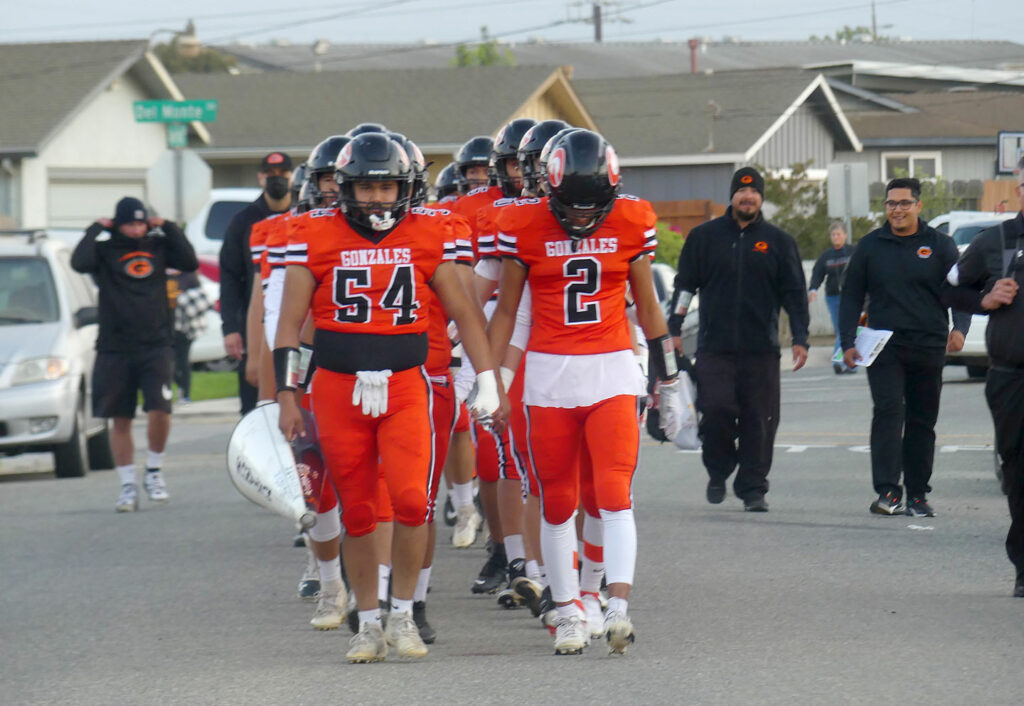 Going into his senior season in 2021, a lot had changed for the football team. Coach Berlanga would be gone and they went from a team full of seniors and juniors to guys that were playing varsity football for the first time. With Mendez being a leader without playing a snap of varsity football, he was the main wide offense weapon on the team.
"I knew I didn't have a lot of experience, I didn't even know how to tackle," he said. "I just knew I had to dodge a bunch of people so they wouldn't hurt me."
This past season was a down year for the Spartans team, as they didn't win a game.
Mendez finished the season with 629 receiving yards and five touchdowns, while making the second team all-league in the Mission Division. If it wasn't for his starting quarterback going down for the last four games, he would have had a great chance to make the first team.
Although Mendez's team's season wasn't great, he found the love for the game that he wanted to pursue after high school.
"One minute, you're in pain, and then the next minute, you're running down the sideline about to score a coach down," he said. "And when you hear the crowd getting louder when you're on a long run, there is nothing like it."
Mendez, who spent all but three months of his life in Gonzales, loved this experience — from riding his bike through the fields to walking through town on Friday nights to the stadium before the games.
"It means everything," he said. "There is no other place like Gonzales. It is incredible how historic Gonzales is."
When the season ended, Mendez was trying to find a college to play for over the next four years. Due to the lack of experience he had, not many four-year schools were willing to take a chance and give up a roster spot.
"Not having my junior year really did affect me," he said. "It was a season I wished I had just to gain more experience. More knowledge and coaching would have made me more successful in my senior season."
Although Mendez has a couple of years playing football, his former PE teacher believes that he will shock a lot of people.
"For him to train and really be a football player, he is going to be one hell of a player," Berlanga said. "I believe he's going to have a better college career than high school career."
While applying to school, Mendez was reminded by his dad to apply to the University of Puget Sound. Once he did, he was able to connect with the coaching staff instantly and his decision was made up.
"When I was applying for football, my dad knew that was the only school I enjoyed. My dad told me to apply," he said. "When I got in, the coaches were very interactive with me."
When Mendez finally steps on campus this fall, his goal is not toward the NFL but to follow in his dad's footsteps so one day he can give back the way he has.
"I'm blessed enough to have a father that goes to work to help the community and give back to youth," he said, "and has enough time to come back home and watch TV on the couch with us."
When Mendez started his high school career, he never played organized football. After dedicating himself to the process, he will not only get to continue his football career, but also further his education to help out his community.
"Seeing that football was something I was decent at, it was life-changing," he said. "I never thought in 100 years that I could take myself to the next level."