GONZALES — Last year Gonzales Spartans starting quarterback Juan Pablo "JP" Acosta-Ayala won the job after not playing football since his eighth-grade year. Despite the season not going as planned, the now-junior player is confident that this year is going to be different.
"This year our mentality is that we can compete with anyone," Acosta-Ayala said.
During the 2021 season opener against Pacific Grove, Acosta-Ayala was nervous as he was getting ready to play his first varsity game as a Spartan.
"I never played high school football at all," he said. "The last time I played football was back in eighth grade."
In the first half, his nerves took over, and the Spartans were outplayed 14-0 by Pacific Grove.
"Before the game, I was incredibly nervous," Acosta-Ayala said. "It showed in the first half."
By the second half, however, Acosta-Ayala started to get more comfortable and play to his potential, leading the Spartans to three straight scoring drives to end the game. Though the outcome didn't turn out the way he wanted, it proved that good things are coming during his time at Gonzales.
In Acosta-Ayala's first game, he finished with a school record of 333 passing yards and two touchdown passes.
Before the season, when it was clear that Acosta-Ayala was going to be on varsity and competing for the starting quarterback job, he was going to make sure that he knew his playbook and to always be on time to everything.
"I wanted to be reliable," he said. "I didn't want any of the coaches to worry about me."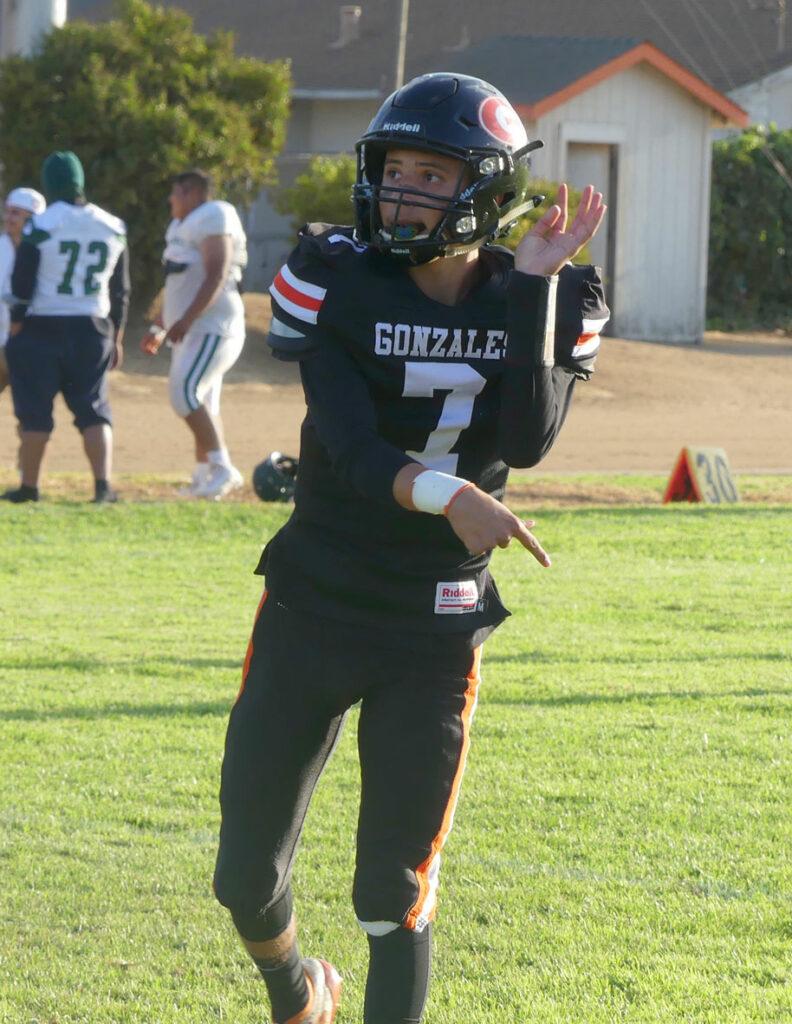 Last season wasn't great for the Spartans as they failed to win a game, and Acosta-Ayala had to miss the last three games of the season due to an injury.
Although they didn't win a game, he felt that if they got a couple more breaks that the season would have been different.
"We were just as good as any team in the mission," he said. "Most of the games were close."
Acosta-Ayala admittedly felt the pressure of being the starting quarterback for a school that has so much history, including being Santa Lucia champions. It was a lot to handle, but as he went through the season, the more comfortable he got.
"At first it was very intimidating," he said. "I felt there was a bunch of pressure."
Going into this season, Acosta-Ayala is feeling good about it because they don't have the hard restrictions that didn't allow them to have a full offseason workout due to Covid-19.
With the loss of his top receiver from a year ago and Gonzales installing a new offense, Acosta-Ayala has been working with his receivers to help speed up his decision-making.
"What shocked me was how fast the game was," he said. "This year I'm going in much more calm."
As the season approaches, the No. 1 goal for Gonzales is to reclaim their Santa Lucia championship and return to the playoffs. For Acosta-Ayala, it is to be the best quarterback in the county and to break every record at Gonzales — even his own.
"I want to try to break my passing record from last year," he said. "I want to be top three in our league in passing yards."