SOLEDAD — Coming into last Thursday's game against Soledad, Everett Alvarez had only practiced three times since being shut down for 10 days because of Covid-19, but that didn't stop the Eagles from taking flight on the Aztecs by beating them 29-8.
The Aztecs came out flat, starting the Sept. 2 home game by punting on their first drive. Even the Soledad crowd seem deflated, as they didn't bring the same energy as the previous week against Greenfield.
The Aztecs and Eagles exchanged penalties, but the Eagles ended up scoring first. Everett Alvarez quarterback Arath Diaz ran the ball into the end zone to score the first points of the game.
It wouldn't get better for the Aztecs as they fumbled and gave the ball right back to the Eagles, whose running back Dylan Uto then scored on a seven-yard touchdown to make the score 15-0.
In the game against Greenfield, the Aztecs showed the ability to get the big play, but in this game the offense didn't have that.
Soledad only fell further behind when quarterback Bryan Acero's throw bounced off the receiver's hand and was recovered by an Eagles defender for a pick 6. That would make the score 23-0 Eagles late in the second.
Down by 23, it seemed like the game couldn't get worse for the Aztecs, but it did when Eagles player Peter Mendoza scored on an 80-yard run right before halftime to make the score 29-0.
Totally outplayed, the Aztecs suffered more when they got word that two key starters would have to leave the game due to injuries.
"Injuries played a big role," said Soledad Head Coach Jose Martinez. "We have two guys with dislocated shoulders and they played a big role."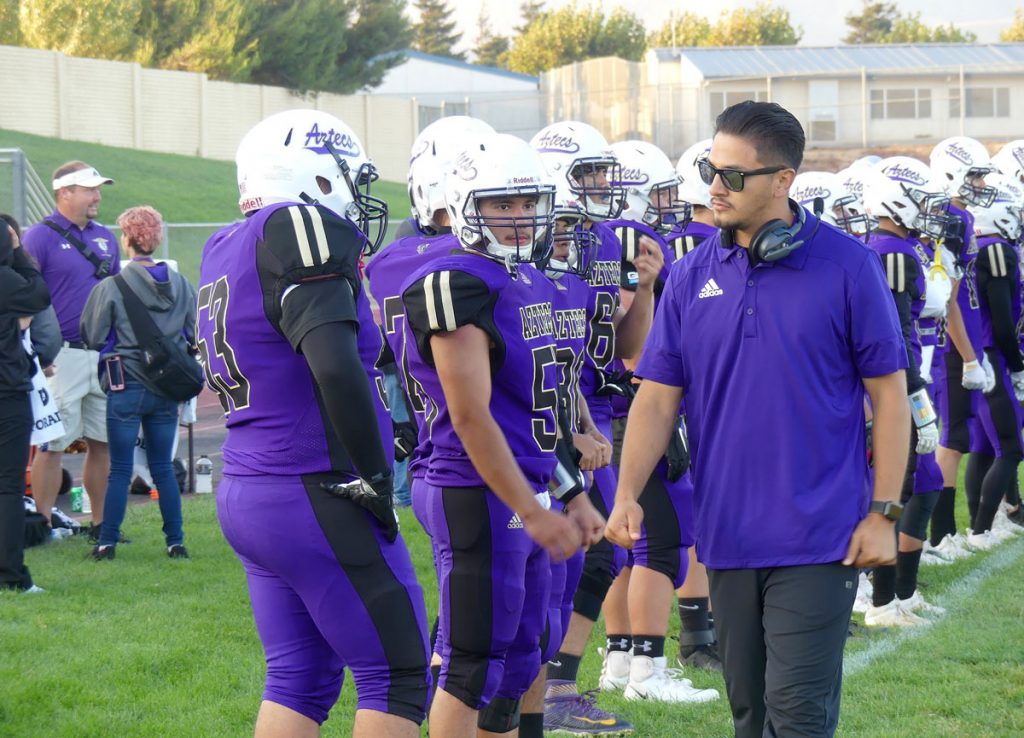 Aztec fans looking for moral victories would find them in the second half.
The Soledad defense wouldn't allow a score in the second half and scored the half's only points when Acero connected with Soledad wide receiver Issaiah Cruz. The final score was 29-8.
The slow start for the Aztecs was the the biggest factor in the game, but Martinez sees this loss as a good thing.
"We can't start the game chasing, we just can't," Martinez said. "Ultimately, this was good for us. We have to learn from our mistakes and come out punching first next time."
Soledad won't play again until Sept. 17 at North Monterey County. The bye week allows time for the Aztecs' two star players to recover.
"Taking care of injuries is number one," Martinez said. "And minimizing mental mistakes."