GREENFIELD — The DNA running through Carol and Larry Umbarger's family business reveals itself through a fabric of unity, commitment and pride.
Creekside Farms is a legacy 35 years in the making. In 1988, two American farmers transformed a humble cut flower business (designed to help defray college expenses for their two older children) into an artisan wreath-making company providing quality products to individuals and retailers across the country.
Working primarily with ornamental flowers and culinary herbs, the Umbargers discovered a market for California Pepper Berries, which ultimately led to a connection with Smith and Hawken, the upscale retailer of home and garden products.
Smith and Hawken had a vendor who needed help meeting a deadline to deliver Eucalyptus and Pepperberry wreaths, so the Umbargers spent a weekend learning the craft. Over the course of the next three weeks, they made 3,000 wreaths atop a pool table in the family playroom.
"We soon realized that wreath making was our future," the family says on its website, creeksidefarms.com. "We have been producing thousands of wreaths for top catalogs and internet companies for over 20 years."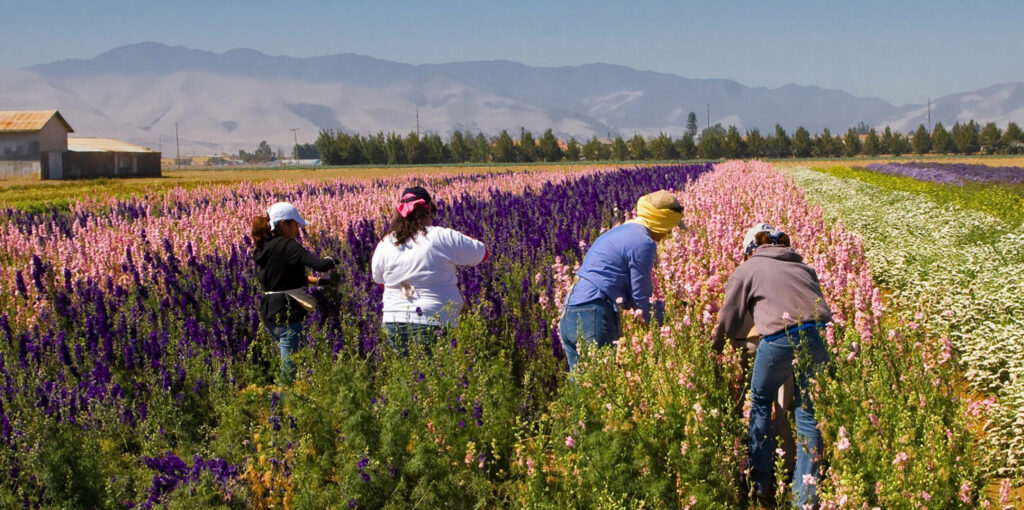 Based in the tight-knit community of Greenfield, the company grew steadily, beginning with Mercedes, who helped make the first wreath and who still works for Creekside Farms more than three decades later.
Now, Creekside Farms makes 3,000 wreaths by hand in just a few days, the family legacy assured with the addition of Carol and Larry's eldest son Allen and his wife Teri, both instrumental in growing the business.
Eventually, the couple's two youngest sons, Aaron and Scott, and Paola, Allen and Teri's daughter-in-law, also joined the business, with six out of 11 grandchildren also coming on board during summer and school vacations — creating a team of three generations.
Today, Allen serves as general manager, with Teri as company president in charge of design, sales and marketing, Aaron as shipping manager and Scott as field manager. Several of Creekside Farms crew have worked over 30 years for the company, as well as Production Manager Rodolfo Tapia.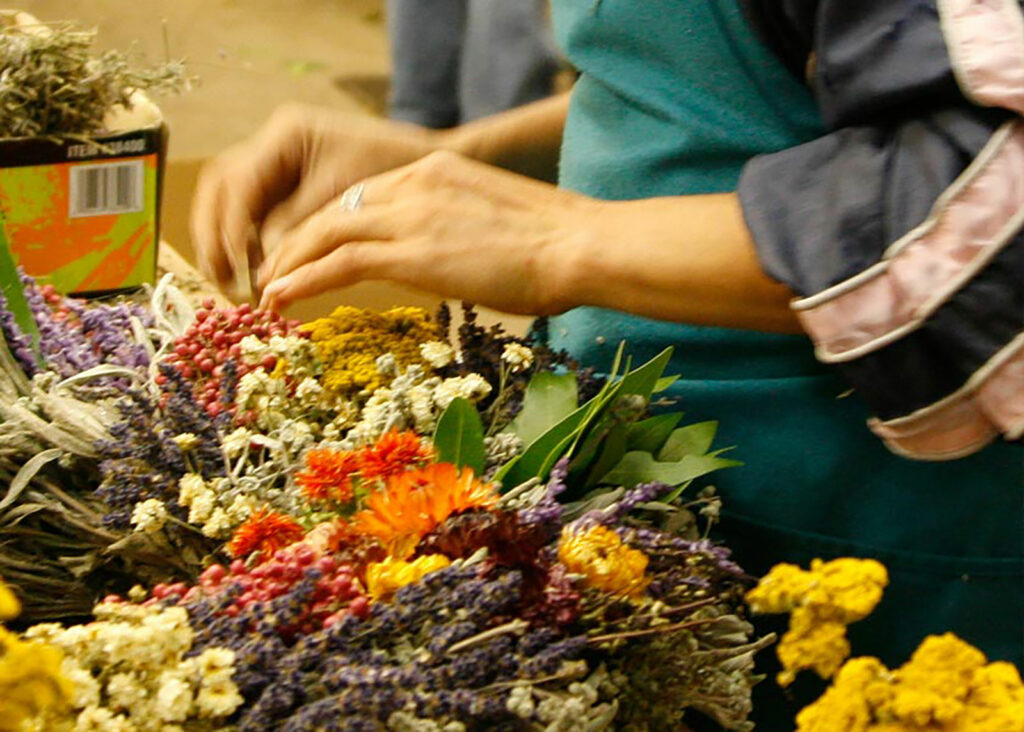 Much of the success of the company can be attributed to the loyalty of longtime employees, many of whom return each year to help out during the peak fall and holiday seasons.
That loyalty extends to Creekside Farms wholesale companies with relationships built over 20-plus years. The corporate gifts division continues to grow as companies discover that natural wreaths create a long-lasting gesture of thanks that clients appreciate and thoroughly enjoy.
"Our warm dry climate is ideal for growing and drying our herbs and flowers that we use in our designs," the family says. "Our herbs and flowers are grown naturally without harmful pesticides. We grow and use lavender, olive branches, rosemary, sage, marjoram, oregano, thyme, cilantro, dill and various flowering herbs, such as yarrow, monarda and feverfew in our designs."
All of their products are harvested by hand and naturally air dried.
"We also use a drying chamber in the later months when the days are shorter and the temperatures aren't sufficient to dry the herbs," the family says. "We hand harvest our herbs into small bunches. They are then naturally air-dried on wire racks in our warehouse."
The creative passion within Creekside Farms family-focused philosophy attracted the attention of Academy Award winning actress and activist Jamie Lee Curtis, whose nonprofit, My Hand In Yours, seeks to become a powerful source for change.
Her organization vows to connect the dots between creativity and compassion. It sells carefully crafted items, such as wind chimes, hats, organic cotton tote bags and, yes, Creekside Farms handmade holiday wreaths, with proceeds benefiting Children's Hospital Los Angeles. Read more about her initiative at myhandinyours.com.
"Everyone within the company is so proud to have their efforts recognized, and to know that they are so much more than what hangs on your door," according to a news release from Creekside Farms. "It is gratifying to realize that these quality products — made with such love and attention to detail — not only bring joy, but bring people together in such a beautiful and organic way."