SALINAS VALLEY — California Rodeo Salinas will celebrate 112 years of tradition this month, beginning Friday with Big Week, which is full of activities that promote and preserve western heritage.
Many of the events have been happening for decades, providing fun for all ages. Organizers are expecting a huge turnout this year, following last year's rodeo that was held in September with pandemic-related modifications.
The rodeo's carnival kicks off Big Week on Friday, July 15, and is open daily from 3 to 11 p.m. until Sunday, July 24, at 295 Sun Way in Salinas. Presented by Smoot Family Chiropractic, the carnival offers affordable entertainment for families during Big Week.
"We are very excited to bring the carnival back during Big Week," said Danny Little, chairman of the carnival committee. "It's a huge part of the rodeo's festivities and annual fundraisers, and we can't wait to see everyone out here enjoying rides, games and more."
KIDDIE PARADE
The annual Kiddie Kapers Parade, presented by Sakata Seed America, is a hometown staple in Salinas and also helps kick off Big Week festivities. This 91-year-old parade will be held Sunday, July 17, at 3 p.m. at Salinas City Center, formerly Old Town Salinas.
This year's theme is "Bull-ieve in Yourself," and youth are encouraged to dress up like whatever they want to be — astronauts, scientists, cowboys, doctors, etc. — and there will be special prizes for the best-dressed bullfighters. This is a tribute to the late freestyle bullfighter Ross Hill, who is featured on the California Rodeo's 2022 commemorative poster.
Hill, who was a fan-favorite known as the "Alabama Slamma," competed in the freestyle bullfights in Salinas for many years, winning the championship in 2007, 2008 and 2018. He died in an accident in March 2021.
"It warms my heart for the California Rodeo to be able to honor Ross in this way," said Fred Hooker, president of the California Rodeo Salinas. "He meant a lot to our committee and community."
The rodeo has donated to Hill's foundation — established by his family to carry out his wish to help children reach their full potential — as a "small token of appreciation and to further the cause," Hooker said. More information can be found at RossHillBullfighter.com.
No pre-registration is required for the parade, which is free for participants and spectators.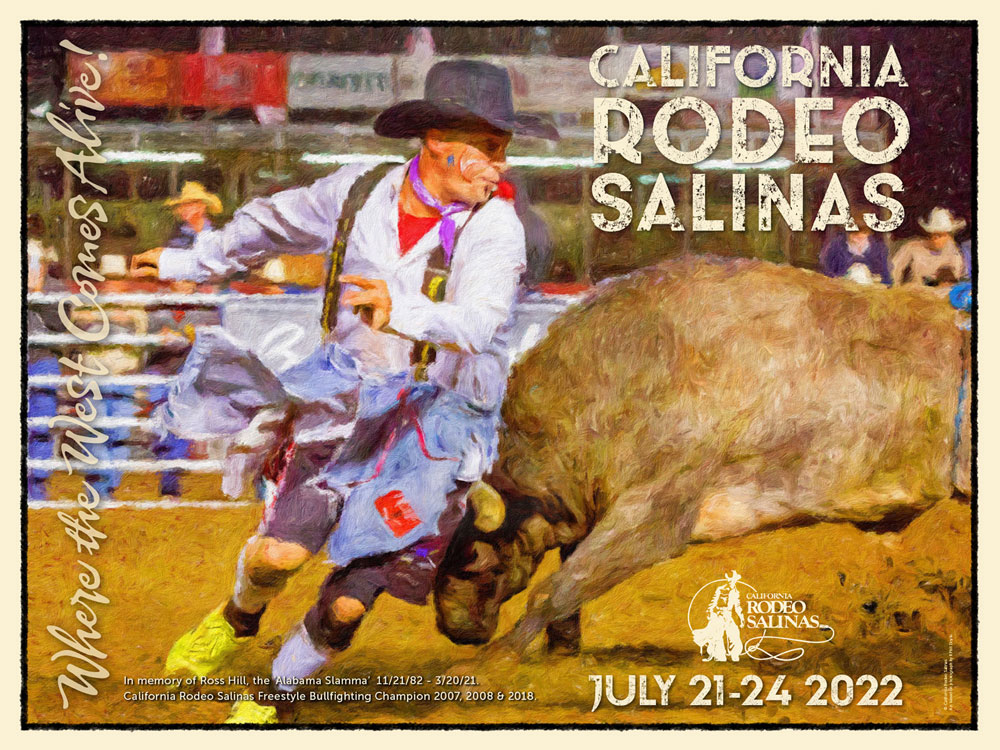 BANDA CONCERT
Banda MS de Sergio Lizarraga, one of the most popular bandas in Mexico, will play at the Salinas Sports Complex during Big Week on Saturday, July 16. The concert, presented by Tequila Alderete, also features opener Los 2 de la S.
Youth, explosiveness and talent are the words that currently define Banda MS, created by seven teenagers who, after having belonged to other renowned groups, decided to form their own musical organization. The initials of their homeland in Mazatlan, Sinaloa, gave the group its name in 2003.
Always with firm objectives, the group has earned the nickname of "the highest grossing band," a slogan that reflects the work that has been carried out over more than 15 years of musical career.
Gates will open at 5 p.m., and music will start at 7 p.m. The Salinas Sports Complex, an all-outdoor venue, is located at 1034 N. Main St. in Salinas.
BULL RIDING
The Big Week Bull Riding will take place Wednesday, July 20, as part of the Professional Rodeo Cowboys Association (PRCA) Xtreme Bulls Tour. The show starts at 7 p.m. at the Salinas Sports Complex.
Presented by Salinas Valley Ford, this year's event will feature bull riders and bulls from the PRCA Xtreme Bulls Tour for the first time. Competitors include top bull riders from the PRCA l RAM World Standings as well as contestants who advance through Xtreme Bulls qualifying events.
The PRCA Xtreme Bulls event will be a warm-up to the 112th Annual California Rodeo Salinas, which begins July 21 and runs through July 24.
California Rodeo Salinas is the largest rodeo in California and ranked ninth in the United States out of more than 500 professional rodeos.
Each year more than 600 cowboys and cowgirls travel to Salinas for a chance to win the coveted belt buckles awarded in each event, including the women's breakaway roping, women's barrel racing, bull riding, bareback riding, saddle bronc riding, team roping, steer wrestling and tie-down roping.
Chuckwagons will race in the arena and action like mutton busting, clown acts, trick riding and more takes place on the track that surrounds the arena.
For tickets and more information, visit the California Rodeo Salinas website carodeo.com.