SALINAS VALLEY — The 112th California Rodeo Salinas entertained thousands of fans last weekend at the Salinas Sports Complex, where attendance numbers surpassed those of previous years.
Total ticket sales for the 2022 rodeo's four performances, from July 21 through July 24, totaled 57,449, up 10.5% from 2019, according to rodeo officials.
Sunday's matinee performance, the final day of this year's event showcasing western traditions, roped in 15,569 fans. This was an increase of 5.5% in attendance over the same performance in 2019 — the last year that the rodeo was held in July — and up 19.6% over the Sunday performance in September 2021.
Sunday was Crown Royal Day of Champions, during which event winners were presented their buckles, and Man Up Crusade Day, a program that brings awareness to domestic violence. California Rodeo Salinas partners locally with the YWCA of Monterey County to raise funds and awareness for their nonprofit, which provides shelter and services to domestic violence victims.
Tyler Pearson of Atoka, Okla., won the All-Around title, and Brittany Pozzi Tonozzi of Lampasas, Texas, won her fifth Salinas barrel racing championship buckle.
The annual event kicked off Thursday with Wrangler Tough Enough to Wear Pink Night, drawing 10,509 people — up 625 tickets over 2019 — to the Salinas Sports Complex for the first performance.
Presented by Mechanics Bank and Salinas Valley Memorial Healthcare System, Thursday night was full of fans in their pink shirts and cowboy hats cheering on the cowboys and cowgirls while helping their community at the same time. One dollar from each ticket sold was donated to the Comprehensive Cancer Center at SVMHS.
On Wednesday, the day before the rodeo's kickoff, a sold-out crowd of 10,697 people witnessed a night of great bull rides during the Big Week Bull Riding Xtreme Bulls event.
"Presented by Salinas Valley Ford, the Big Week Bull Riding continues to be one of the most popular events held during Big Week, selling out again, like it did from 2015-2019," rodeo officials said.
Josh Frost of Randlett, Utah, took home the championship buckle after winning the final round with an 84 on Wing and Barrel, owned by Cindy Rosser of Flying U Rodeo. California Rodeo Salinas President Fred Hooker and Miss California Rodeo Salinas 2022 Mayson Bothwell of King City were both present to congratulate Frost.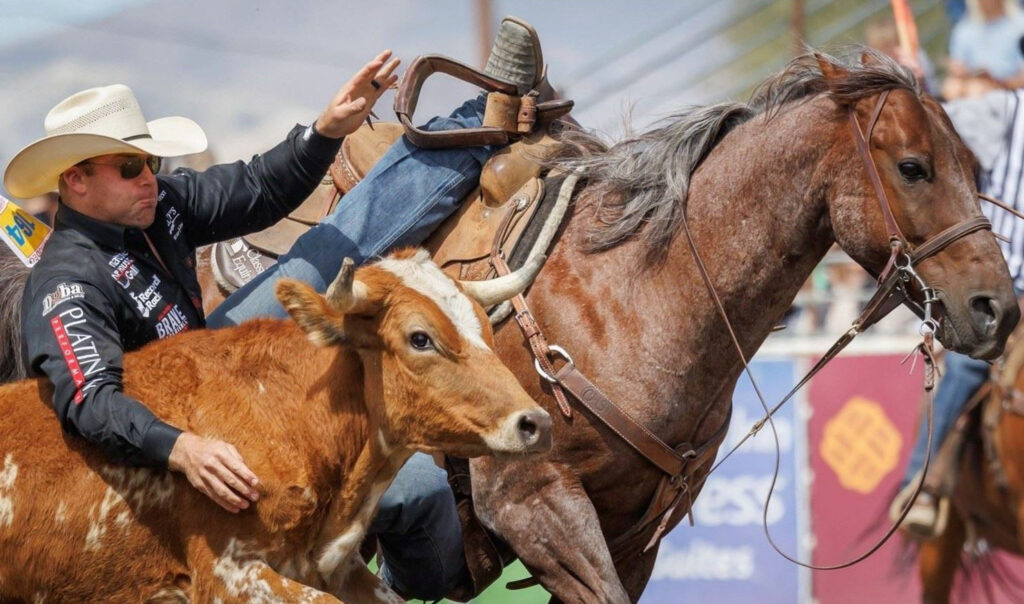 Night two of the California Rodeo Salinas brought a sold-out crowd of 17,500 out to the Complex on Friday, an increase of 11.7% over the same night in 2019.
"Fans arrived early to eat, drink, shop, enjoy the McDonald's Kids Corral and more before experiencing professional rodeo entertainment in the arena and local events, trick riding and clown acts on the track," rodeo officials said.
Church Brothers' The Mighty Green won the produce mascot race benefitting Ag Against Hunger.
Saturday was the first of two weekend matinee performances, with the other on Sunday, and saw an attendance of 13,851 fans, an increase of 18.6% over the same day in 2019. Veterans and active military gained free entry into the event, which was presented by Tanimura & Antle.
The Special Buckaroos Rodeo, taking place at noon on the rodeo track, hosted 24 children with disabilities from Monterey County who participated in various rodeo events led by professional cowboys, cowgirls and rodeo volunteers. In addition, veteran James "Guido" Davis delivered the American flag to the arena via airplane and repeated it again on Sunday.
Rodeo officials announced that the 113th California Rodeo Salinas will take place July 20-23, 2023. Full arena and track results of the 2022 rodeo can be found at carodeo.com.